HIV and COVID-19: issue 3 (14 May 2020)
14 May 2020. Related: News.
This is third HTB supplement on HIV and COVID-19 that is also now available as a separate PDF.
The publication aims to compile and review research over the last month – which has seen many new developments including more attention on the wider pathogenesis of COVID-19 beyond respiratory complications.
This issue also reports on new HIV/COVID-19 cohorts – still with small numbers – that still cautiously support no excess risk for people on effective ART.
Similarly, both BHIVA and EACS maintain that a good CD4 count on effective ART shouldn't affect risk from COVID-19, but also acknowledge that many people are also in higher risk categories due to our age and other comorbidities.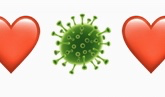 We also summarise the new BHIVA HIV treatment guidelines for COVID-19 that incorporate reduce/deferred monitoring and preferential use of bictegravir/F/TAF for first-line ART.
Several papers have focus on the complex pathogenesis of COVID-19 and that cells susceptible to CoV-2 infection are widely distributed throughout the body. There are increasing reports of complications from cardiovascular disease, blood clots, neurological complications and most recently the reports of hyperinflammatory shock in children in London and New York being described as atypical Kawasaki disease.
Some experimental treatments look more promising than others – including drugs to specifically target the inflammatory cytokine storm that characterizes the most severe stages of COVID-19. This issue includes information on anticoagulants (all formulations), anti-inflammatory drugs (tocilizumab, anakinra, baricitinib) and convalescent plasma.  Less optimistic results are included on HIV drugs (lopinavir/r, darunavir, TAF), hydroxychloroquine and childhood BCG.
The most promising studies are using combination treatment but earlier access to all treatments seems important even though most studies are still not being used until 10-12 days after first symptoms.
During the last two weeks, remdesivir squeezed through the regulatory pathways with emergency approval in the US and Japan with a trade name Veklury. Although the indication is for severe hospitalised COVID-19, earlier use might be better. The limited data means this is currently an antiviral drug that in human studies shows no impact compared to placebo on viral load in throat swabs or lung tissue, and despite a relatively clean side effect profile, no apparent benefit from longer dosing in studies without a placebo or standard of care arm (10 vs 5 days).
This issue is produced during a time when the numbers of UK deaths have passed 32,000 and when there is still insufficient support for NHS staff and other key workers including in transport and retail, to be protected at work or for testing to be available widely enough to manage risks.
Under these circumstances we continue to be especially grateful for the continued commitment and care from the NHS and other services.