HIV and nanotechnology: workshop report (2011)
10 May 2011. Related: News, Other reports.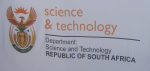 An international workshop on nanomedicine for infectious diseases related to poverty was held in Magaliesberg, South Africa from 27–31 March 2011 and attended by about 70 delegates from 20 countries.
This report includes an introduction to nanotechnology with examples for medicines that are already approved. It includes information about nanoformulations of HIV and TB medicines and the potential advantages they might offer.
The report is published in the May/June edition of HTB.