HTB: issue 11 online (29 June 2018): darunavir/cobicistat alert, PK reports and more
29 June 2018. Related: News.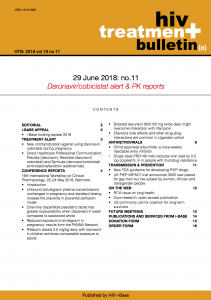 This issue of HTB starts with a treatment alert stating that cobicistat boosted darunavir is contraindicated in pregnant women. This is based on significantly reduced plasma levels of darunavir and cobicistat during the second and third trimesters of pregnancy.
Ritonavir-boosted darunavir can still be used during pregnancy and we include the Dear Doctor letter from Janssen.
Our second batch of seven reports from the 19th International Workshop on Clinical Pharmacology in May includes results from a small PK study in which both elvitegravir and cobicistat exposure too were significantly lower during pregnancy.  Elvitegravir/cobicistat is also not recommended for pregnant women because of reduced drug levels.
Other reports from this meeting include studies looking at: unbound dolutegravir plasma concentrations in pregnancy and transplacental transfer; bioavailability of the paediatric etravirine dispersible tablet, co-administration of adult and paediatric antiretrovirals with TB medicines; and the frequency efavirenz side effects and drug-drug interations in an African setting.
Other HTB reports in this issue include the news that China just approved albuvirtide, a once-weekly injectable; and promising phase 2b/3 trial data for PRO 140, a once-weekly subcutaneous monoclonal antibody (mAb).
Prevention news includes draft FDA guidance for developing PrEP drugs. And closer to home, the UK PrEP Impact trial has increased the number of participants from 10,000 to 13,000. However, low recruitemnt of women, African people and transgender people has led to halving the number of these previously ring-fenced trial places that are not for gay men.