Improved virological outcomes for women starting efavirenz-based first-line regimens in South Africa
1 February 2014. Related: Conference reports, Women's health, Intl Workshop on HIV and Women 4th 2014.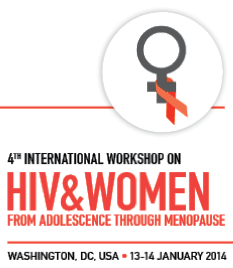 Polly Clayden, HIV i-Base
Women receiving efavirenz (EFV) first-line experienced better virological outcomes than those receiving nevirapine (NVP) in a multicentre cohort in South Africa, according to data presented at the 4th International Workshop on HIV & Women 2014.
Bonaventure Egbujie from Kheth'Impilo – an NGO that provides health system strengthening and technical assistance to the South African Department of health – showed findings from a comparison of virological outcomes in women starting EFV or NVP based ART in a public health setting.
A total of 53,447 women were included in the study, of these 33,946 (63.5%) initiated treatment with EFV and 19,531 (36.5%) with NVP. At baseline, women starting with EFV were older, median 36 vs 30 years; had lower median CD4 count 125 vs 148 cells/mm3 and were more likely to be receiving concomitant TB treatment 12.4% vs 7.8%; but fewer were pregnant 2.2% vs 18.6% (all comparisons p<0.0001).
At 60 months women receiving EFV had a 40% reduced risk of unsuppressed viral load (>400 copies/mL) compared to those receiving NVP: AOR 0.6 (95% CI 0.58 to 0.63), p<0.0001. Pregnant women receiving EFV had a 28% reduced risk AOR 0.72 (95% CI 0.58 to 0.91), p=0.005.
At 48 months, the cumulative probability of confirmed virological failure (two consecutive viral loads >1000 copies/mL) was lower in the EFV cohort: 44% reduced risk AHR 0.56 (95% CI 0.50 to 0.63), p<0.0001. The cumulative probability of virological rebound (>400 copies/mL) after initial viral suppression was reduced in the EFV cohort: 16% reduction AHR 0.84 (95% CI 0.76 to 0.93), p=0.001.
The proportion of women who switched to a second-line regimen was substantially lower in the EFV cohort: 1.3% vs. 4.2%, relative risk 0.31 (95% CI 0.28 to 0.36), p<0.0001.
In this study, virological outcomes of women who received EFV were significantly better than those who received NVP for first-line ART despite having more advanced HIV at baseline. Pregnant women also had improved virological outcomes with EFV. Dr Egbujie noted that these results support the recent WHO recommendations to use EFV in preference to NVP in adults including for pregnant women.
Comment
It can still be confusing for health workers and HIV positive people in many settings that the efavirenz label does not recommend its use in pregnancy, despite ever increasing reports of favourable outcomes with this WHO recommended regimen.
Reference:
Fatti G et al. Improved virological outcomes amongst women starting efavirenz for first-line antiretroviral treatment in South Africa. Oral Abstract_18.
http://regist2.virology-education.com/2014/4hivwomen/docs/28_egbujie.pdf