Two new i-Base resources: Introduction to ART booklet and a Pocket ART leaflet
1 October 2015. Related: Supplements.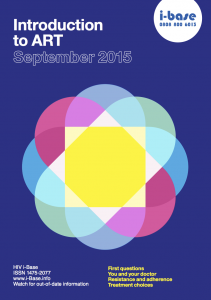 Two supplements are included with this issue of HTB. Both resources are updated to include the recommendations from the 2015 BHIVA guidelines.
INTRODUCTION TO ART (16TH EDITION)
The 2015 update to the i-Base guide to combination therapy – now in its 16th edition – has been retitled Introduction to ART.
This 48-page A5 booklet includes essential information for anyone starting treatment (or already on treatment), especially if they are recently diagnosed.
NEW POCKET GUIDE TO ART

The second supplement – Pocket ART – is a new small concertina folding A7 leaflet that is designed to be an even simpler and more direct introduction to ART.
The leaflet uses simple statements and quotes about ART, with short URL links to web pages that have additional information in a similar easy format.
All with all i-Base publications, both resources are free in the UK.
Please order online or call 020 7407 8488.