November/December 2016: Volume 17 Number 11/12
29 November 2016. Related: Editorial.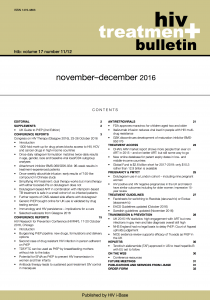 The last issue of HTB this year comes in the shadow of the US elections.
The outcome is highly relevant for global healthcare as it threatens to destabilise many of the foundations that enabled a scientific response to the HIV epidemic.
As the world's richest country, the US funds most of the essential research into HIV vaccines, cures and preclinical drug development, and leads funding for treatment access in low-income countries.
As well as this, the US in recent years developed a more stable leadership role for human rights based programmes that actively address discrimination and inequality.
The election results led to unprecedented reactions from leading scientific journals including the Lancet, Nature and Science, which are usually removed from Party politics. Post-election editorials and articles are universally fearful of the shift from evidence-based policies threatened by the president-elect and the team he is bringing into office.
Grounding policies and actions in evidence rather than opinion has been the basis of the best response to the HIV epidemic. This was the theme for the Joep Lange and Jacqueline van Tongeren Memorial Lecture given by Anthony Fauci (head of the US NIAID) that opened the Glasgow conference this year.
We include this talk as a selected webcast and include many other reports from this biennial meeting, and also from the Research for Prevention conference held in Chicago the week before.
Other contents – including new drugs, treatment access and UK PrEP news – fills the rest of this issue.
Perhaps most optimistically, a fifteen-year review of HIV pregnancies among HIV positive women in the UK and Ireland reported similar outcomes as for HIV negative women, and brings a certain hope for a better future.
As with every end-of-year issue, we would like to thank all our readers and supporters who have helped i-Base this year. We wish you the best for the upcoming seasonal celebrations for the New Year ahead.