16 April 2018: vol 19 no 7: CROI 2018 part 3
16 April 2018. Related: Editorial.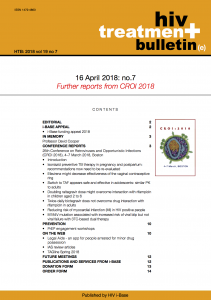 As CROI is a conference that keeps on giving, this issue continues with further reports from this important meeting. 
This slim edition of HTB has articles related to pregnancy, paediatric care, drug-drug interactions and side effects of ART.
New results on the use of TB prophylaxis during pregnancy are important enough to recommend re-evaluating current guidelines.
A drug-drug interaction study suggests efavirenz might reduce the effectiveness of a contraceptive vaginal ring.
Plus, two studies providing data on TAF in adolescents showing similar results to adults, including one using bictegravir.
Finally, two reports by guest writer Dr Satyajit Das who reviews several studies on management of cardiovascular risk and
a poster looking at the role of the M184V mutation in 3TC-containing dual therapy.
The next issue will include news from the BHIVA/BASHH joint conference being held in Edinburgh from 17 to 20 April 2018.