European AIDS Clinical Society honours Simon Collins for longstanding contribution to the field of HIV
20 December 2021. Related: Conference reports, Treatment advocacy, EACS 18 London 2021.
Polly Clayden, HIV i-Base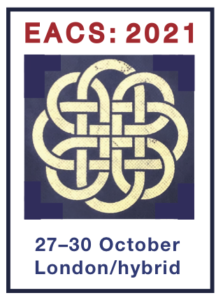 HIV i-Base's Simon Collins received the biennial European AIDS Clinical Society (EACS) award, announced at the October 2021 conference.    
The EACS award recognises an individual's "…longstanding, impactful and sustained professional contribution to the field of HIV" and is presented at the two-yearly meeting. Nominations are reviewed by a committee, representing a diversity of expertise and experience.
This year the committee was unable to come to a consensus and honour just one nominee, so the award was given jointly to Professor Andrzej Horban of the University of Warsaw, Poland, for his outstanding contribution to HIV, both in his native country and throughout Eastern Europe, and to Simon.
Presenting the award, Professor Peter Reiss, of Amsterdam University and the committee chair, explained that Simon co-founded i-Base in 2000, and that he has always campaigned for the rights of people living with HIV to be actively involved in both their own health and studies that may affect them and described some of Simon's many contributions to this end over the last two decades.
He applauded Simon's detailed critiques of the latest HIV research, often before it appears in peer-reviewed publications and his commitment to developing and promoting community engagement and advocacy. He also noted how he has more recently applied this expertise to COVID-19.
On hearing that he would be receiving this award, Simon responded: "This is a great honour that is definitely appreciated. It is also a really good way to recognise advocates as partners in HIV healthcare, many of whom work for years, often as volunteers, and often in much more difficult circumstances."
i-Base also congratulates joint awardee Professor Horban who has specialised in infectious diseases for 50 years. He developed and led HIV services in Poland, from treating the first cases to establishing and running the largest national clinic for over 25 years.
Professor Horban also co-chaired the EACS conference when it was held in Warsaw in 2003 and brought a long-needed focus on the importance of the HIV epidemic in eastern Europe.