CROI 2022 to only be virtual: programme online
7 February 2022. Related: Conference reports, CROI 29 (Retrovirus) 2022.
Simon Collins. HIV i-Base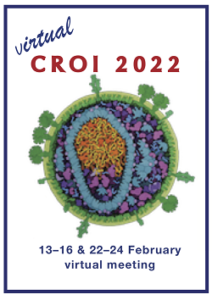 The following information has been posted to the CROI 2022 website about the meeting next month.
"The 29th Conference on Retroviruses and Opportunistic Infections (CROI), will be live for virtual participation only. February 12 to 16 will include the Opening Session, technical workshops, plenary presentations, interactive sessions, oral sessions, and poster presentations.
February 22, 23, and 24, 2022, will include symposia with state-of-the-art talks and responses to audience questions.
The programme begins each day at 8:30 AM Mountain Time US/ 3.30 pm UK time (Convert to Other Time Zones).
For your convenience, use this Mark Your Calendar link to add all the live session times of the conference on your calendar."
https://www.croiconference.org/preliminary-agenda
A PDF file of the full programme is also now online:
https://www.croiconference.org/wp-content/uploads/sites/2/resources/2022/croi2022-program-abstract-ebook.pdf (PDF)
Rapid i-Base reports will be published online at this link:
https://i-base.info/htb/42098
Community cure workshops
The 2022 Community HIV Cure Research Workshop, sponsored by Treatment Action Group (TAG), many of the Martin Delaney Collaboratory Community Advisory Boards, and other advocacy groups, will be virtual again this year, breaking up into two 2 hour sessions—one before the 2022 Conference on Retroviruses and Opportunistic Infections (CROI 2022) on February 8; and one session afterwards on March 1.
Please register here: https://bit.ly/3sVgtun
Community breakfast meetings
As with previous recent years, informal community breakfast meetings will be held an hour or so before each of the main conference days.
These virtual meetings are also open to people who are not registered for CROI. They include leading researchers and community advocates to lead open discussion on the most important studies from the previous day. They also include suggested highlights for the day ahead.
Registration details will be added to this page once they are available.
For further information please email:
jimberlypickett@gmail.com
This article was first posted on 26 January 2022 and was updated with programme links when they became available.