HTB: no. 4 (1 April 2022) PDF downloads
1 April 2022. Related: PDFs.
PDF files use a single column layout that makes it easy to read on tablets and other hand held devices.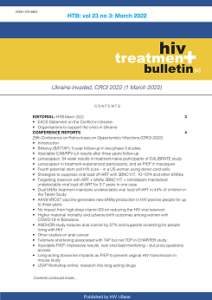 HIV no 4 – April 2022 – 1 column (PDF)

Appeals for Ukraine. Second reports from CROI 2022: islatravir, diabetes, COVID-19, mental health, NATLD, PEP packs, cure and more.
Plus news on COVID-19 including fourth vaccine shots…