HTB May 2022 (2 May 2022)
2 May 2022. Related: Editorial.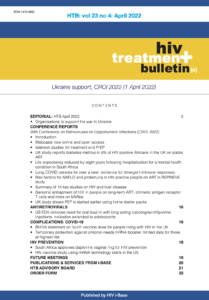 As with previous issues of HTB, the importance of the war in Ukraine means we start this issue with ways you can help.
This includes donating unused medicines and medical supplies and the chance to directly support HIV positive organisations in Ukraine.
This is also the third issue of HTB that includes reports from the CROI 2022.
We include a full report on the VISEND and NADIA studies that should change WHO guidelines on second-line therapy. Key results showed that recycling TDF is more effective than switching to AZT, that darunavir should be the preferred PI, and that additional adherence support increases rates of viral suppression.
A second report from the conference reviews the most important studies on COVID-19.
We report good news on a new dispersible formulation of dolutegravir/abacavir/lamivudine for children.
And also worrying news that ibalizumab access might be uncertain in Europe, just as this is being appraised by NHS England. The very low predicted demand for drugs that overcome HIV multidrug resistance in Europe has led Theratechnologies to return their EU marketing agreement to TaiMed.
But pricing is also key, with EU countries not matching the inflated price charged in the US.
Either way, people currently depending on ibalizumab need to be assured of continued access, which given the low numbers should be simple to ensure.
Aside from reporting the welcome news that HIV testing in A&E will become opt-out in some high prevalent UK cities, the rest of the issue returns to COVID-19, including that two of the longest cases of COVID-19 involved people followed in a UK cohort.
Finally, we include the news of community protests in response to the minimal sentences given to the homophobic murderers of Greek HIV activist Zak Kostopoulos. Our thought are with Zak's family and friends and with the activist community who have protested for justice.