HTB: no. 6 (1 June 2022) PDF downloads
1 June 2022. Related: PDFs.
PDF files use a single column layout that makes it easy to read on tablets and other hand held devices.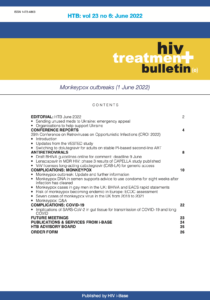 HIV no 6 – June 2022  – 1 column (PDF)

New concerns about monkeypox virus (MPV) including statements from BHIVA and ECDC, with case reports from the UK. Plus other news from CROI 2022 on the VESTED study, lenacapavir, plans for generic long-acting cabotegravir as PrEP and more.