Guide to other HIV cure-related research at IAS 2023
1 August 2023. Related: Conference reports, IAS 2023 Brisbane.
Richard Jefferys, TAG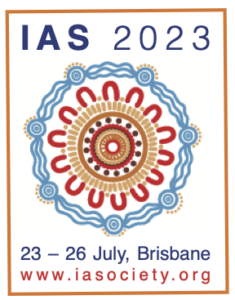 The 12th International AIDS Society Conference on HIV Science, IAS 2023, officially gets underway in Brisbane, Australia on Sunday July 23, with several pre-meetings occurring the day before.
Appended below are links to events and sessions related to HIV cure research. Abstracts should become publicly available starting on Monday July 24, but access to session recordings will be delayed until sometime after the conference has ended.
Saturday July 22
HIV Cure & Immunotherapy Forum (not broadcast live, but according to IAS a recording will be made available afterward)
Sunday July 23
Target setting and leadership for Cure – Insights that show the way to HIV and Sick Cell Disease Cures for Africa
SAT003 – Satellite
Plaza Auditorium/Channel 4
July 23, 7:30-9am local time (US Eastern time: July 22, 5:30-7pm)
Monday July 24
Vaccines and cure: Spotlight on antibodies
PL01 – Plenary session
Great Hall/Channel 1
July 24, 9-10am local time (US Eastern time: July 23, 7-8pm)
HIV cure research: Why are single cells harbouring HIV latent?
SY07 – Symposium
Track A: Basic science
M4/Channel 6
July 24, 2:45-3:45pm local time (US Eastern time: July 24, 12:45-1:45am)
Track A late-breaker
OALBA05 – Oral abstract session
Track A: Basic science
Plaza Terrace Room/Channel 2
July 24, 4-5pm local time (US Eastern time: July 24, 2-3am)
Viral replication and reservoirs beyond the periphery: A deeper look at tissues
OAA01 – Oral abstract session
Track A: Basic science
Boulevard Auditorium/Channel 7
July 24, 4-5pm local time (US Eastern time: July 24, 2-3am)
Tuesday July 25
Advances in gene delivery and engineering of T and B cells: Implications for prevention, therapy and cure
SY12 – Symposium
Track A: Basic science
Boulevard Auditorium/Channel 7
July 25, 10:30-11:30am local time (US Eastern time: July 24, 8:30-9:30pm)
Immune-based interventions towards an HIV cure
OAA02 – Oral abstract session
Track A: Basic science
Boulevard Auditorium/Channel 7
July 25, 2:45 – 3:45pm local time (US Eastern time: July 25, 12:45-1:45am)
Novel insights into viral persistence
OAA03 – Oral abstract session
Track A: Basic science
M3/Channel 5
July 25, 4-5pm local time (US Eastern time: July 25, 2-3am)
bnAbs: From prevention to cure
SAT054 – Satellite
Boulevard Auditorium/Channel 7
July 25, 6:30-8pm local time (US Eastern time: July 25, 4:30-6am)
Wednesday July 26
Understanding the HIV reservoir: New technologies and specific populations
PL07 – Plenary session
Great Hall/Channel 1
July 26, 9-10am local time (US Eastern time: July 25, 7-8pm)
Immune responses critical for viral control and approaches to harness them in vivo
SY20 – Symposium
Track A: Basic science
Boulevard Auditorium/Channel 7
July 26, 10:30-11:30am local time (US Eastern time: July 25, 8:30-9:30pm)