HTB July/August 2023
1 August 2023. Related: Editorial.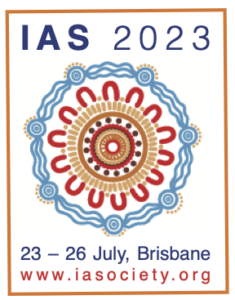 This issue of HTB leads with early reports from the 12th IAS conference held in Brisbane from 23 to 26 July 2023.
This was a major conference and our early reports fill most of this issue – and more will continue to be posted online as they are written.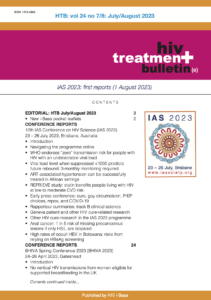 The meeting included important news related to WHO endorsement of U=U, but this also stresses the need for more frequent viral load monitoring when low level viral load remains detectable but less than 1000 copies/mL.
We link this report to data from three posters that show why WHO called for this additional monitoring. This low level viraemia is a temporary state, not a stable one. Closer monitoring is needed to know whether viral load becomes undetectable with adherence support, or whether drug resistance develops.
Many studies also focused on side effects and complications from ART or HIV including hypertension, weight changes, diabetes, cure research, statin use and much more.
It is still a shame that the first press conference three days before the meeting started broke the headline news, before the data was even presented. This makes reporting more difficult and is not a good way to release scientific news about research that has taken years of work.
Also in this issue, the last two reports from the UK BHIVA conference on the efficacy of ART in preventing vertical transmission and looking at the complications of diabetes in pregnancy.
This HTB issue also includes other important news including on further steps to make long-acting cabotegravir (CAB-LA) as PrEP available in Europe and the UK.
The UK-CAB is also partnering with BHIVA to look at current access to New-Fill to treat facial lipoatrophy caused by early HIV drugs. These NHS services were established many years ago but many of the specialist New-Fill clinics are no longer running and pathways for referral to these services are no longer equitable across the UK. Your help with these surveys would be appreciated.
New UK guidelines cover both the HPV and shingles vaccines and cognitive impairment in people living with HIV.
Finally, we report a case of breakthrough HIV infection on CAB-LA PrEP, which we noticed at CROI 2023 and that has now been published.
Lots to read, if you get a break to enjoy a little August sunshine.