July/August HTB now online
15 August 2016. Related: News.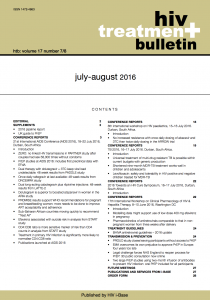 The latest issue of HTB is now online.
Download/open PDF – (780 Kb)
This summer issue of HTB contains reports from five medical conferences and rapidly changing news about PrEP in the UK.
In addition to AIDS 2016 held in Durban in July, there were important workshops before the main conference on paediatric care, cure research and TB. We also include reports from a pharmacology workshop held a month earlier.
Much of the news from AIDS 2016 was linked to HIV prevention including the PARTNER study, the PROMISE study and access to PrEP…