New guide to changing treatment & drug resistance
3 February 2011. Related: News.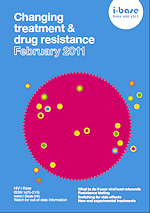 This new and updated treatment guide includes information about changing treatment.
The main focus is on treatment failure because of drug resistance.
This booklet will help explain:
Why your treatment failed.
Which tests you need and what the results mean.
Choices for your next combination.
How to help make sure your next treatment works.
It includes information about drugs in development and other research.
Download PDF (780 Kb)
Send us your feedback. (6 question online survey)