Sign-on for PrEP to be raised in Parliament
23 March 2016. Related: News.
Note: THIS PETITION IS NOW CLOSED. For updates see:
NHS England confuses arse and elbow: block to PrEP ignores UK HIV crisis and will send PEP services into chaos.
…………………………………..
Please sign the UK petition for access to PrEP to be raised in Parliament.
https://petition.parliament.uk/petitions/113891
100,000 signatures needed for debate.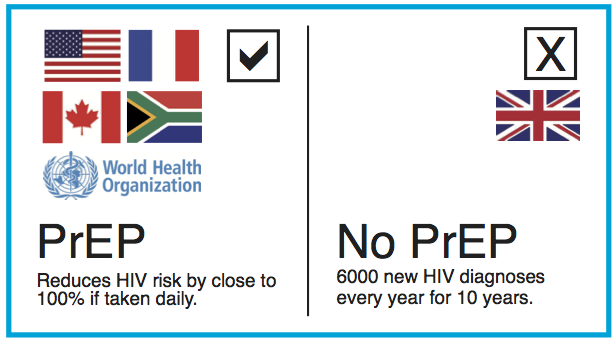 PrEP was approved in the US by the FDA in July 2012. [1]
UK PROUD study reports dramatically reduced HIV risk in October 2014. [2]
Independent NHS report strongly recommends PrEP. [3]
NHS England stops public consultation in March 2016. [4]
This breakdown of the NHS England's own process to evaluate and approve new medicines ignores the ongoing HIV health crisis for gay men, transgender people and others at highest risk.
This decision is part of a wider reduction in NHS services, that has included cuts in sexual health services across the UK.
Each year in the UK, for at least the last ten years, more than 6,000 people have tested HIV positive. That is 500 people a month, every month for the last 120 months.
The UK PROUD study proved that PrEP worked. No-one taking PrEP became HIV postivie either during the study or in the follow up since. Access to PrEP for those at highest risk could dramatically reduce new diagnoses and new infections,
PrEP is approved in the US, South Africa, France, Kenya, Israel and Canada and NHS England has just shelved the chance for the public to comment on a report that recommends UK access.
References
FDA approve Truvada to reduce the risk of sexual transmission. (16 July 2012).
https://i-base.info/htb/19763
UK PROUD study to provide PrEP earlier than expected: planned follow-up to continue to two years. (16 October 2014).
https://i-base.info/htb/27534
HIV Clinical Reference Group (CRG) report on PrEP. Confidential report. Already distributed for stakeholder comment. Public consultation now pulled.
NHS England pulls proposed timeline for PrEP: perpetuates HIV health crisis in gay men and trans people. (22 March 2016).
https://i-base.info/htb/29819