CROI 2014: early reports
4 March 2014. Related: News.
Simon Collins, HIV i-Base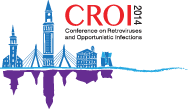 CROI 2014 was held in Boston from 3-6 March 2014. Brief reports and notes from the meeting will be posted here as ahead of press articles for the next issue of HIV Treatment Bulletin (HTB).
Webcasts from the conference are now online. Some posters are also available online as PDF files.
www.croi2014.org
Unfortunately, abstracts from the conference are no yet online as html pages and can only be accessed by downloading a PDF file of the abstract book:
CROI 2014 abstract book (PDF download)
First reports
Our first reports from CROI 2014 are now published online in the March/April issue of HTB.
New pre-press reports
Additional reports will continue to be posted to this page as they become available.
Sugar-daddies not linked to higher risk for HIV
An example from South Africa of why prevention campaigns to be evidence-based.