Before you start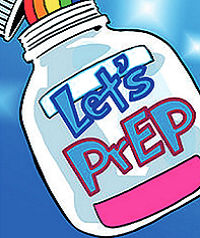 First, please talk to a health advisor, nurse or doctor at the clinic. These people can help you if you want to take PrEP, or are already taking it.
An HIV test before or as you start PrEP is essential.
PrEP can only be used if you are HIV negative. If you are already HIV positive and don't realise it, you could develop drug resistance.
Ask for a 4th-generation HIV blood test. This is also called an antigen/antibody test. This will tell you if you have HIV so long as you haven't had other risks in the last six weeks.
Most finger prick tests are currently 3rd-generation. This test needs 2 to 3 months to show a positive result. So don't rely on a finger prick test before PrEP if you have a more recent risk.
If you are just starting PrEP and had a risk in the last six weeks, have another 4th generation HIV test six weeks after starting. This is to be sure an early infection is not missed.
Be careful about starting PrEP if you have flu-like symptoms and had a recent HIV risk. This is in case these symptoms are related to a recent HIV infection.
If you are starting PrEP after PEP, it is best to start straight away if you need to. Ideally you should have a 4th generation HIV test after you finish PEP/when you start PrEP. Then have another test six weeks after starting PrEP.
Check your kidneys
Kidney tests just involve a blood test for creatinine and a urine test for protein. These tests should ideally be done just before or on the day you start.
Check for other sexually transmitted infections (STIs)
Testing for HIV and STIs is a great idea for anyone with an active sex life. This is whether you use PrEP or not.
Test for hepatitis B (HBV)
Testing for hep B is essential. This is because PrEP meds are active against both HIV and HBV.
This is a good time to have a HBV vaccine, or to boost a previous vaccine. Please ask your clinic about this.
You can still use PrEP if you have HBV, but it needs to be used more carefully. People with HBV need to take PrEP every day, with medical advice, especially if you want to stop.
Last updated: 1 November 2022.