We Were Here
1 December 2011. Related: Book and film reviews.
We Were Here, USA, 2011, 90 minutes. Directed by David Weissman.
Simon Collins, HIV i-Base
This moving documentary interviews five people who lived in San Francisco in the 1970s and who came through the HIV epidemic. It takes you slowly through their involvement and the impact of their experiences on their personal and professional lives.
The interviews are intercut with film, newspaper cuttings, newsreels and stills from hundreds of people who fought before HIV had a name and before there was treatment.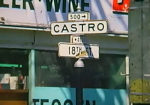 It is important and difficult to remember, that AIDS only happened this way once and involved creating a framework to understand an epidemic that was already widely established before it was discovered. By 1981, it was likely that at least 20% of gay men in San Francisco were already HIV-positive and by the time the first HIV test became available in 1985 this figure was likely to be higher than 50%.
In the 1970s, people moved to San Francisco to escape hatred and isolation of homophobia. As one of the five says "If you had a bus ticket, it had better be going to San Francisco" and "when you arrived you knew you were home". To understand the film means feeling the optimism shared from finding life and friends and sexuality in a new age when pregnancy was preventable and sexual diseases were treatable.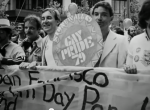 Against a background, not just of political indifference, but active persecution and hatred, these narratives show the breadth of the human and social responses. Hundreds of examples make up the body of the film. Dancer and florist (Guy) who gave away flowers with gentle dignity to help people bury their friends and lovers. Or the sister of a patient who was unaware of how much she helped a nurse by saying "it makes me feel better knowing that you were with him (her brother) to treat him with respect and to treat his body with love".
The medical reality of having to help people die rather than treat them back to health is shown by a nurse (Eileen) telling of how she had never before been in a room full of doctors who were sobbing because their patients had all died. "But we did the research because there was nothing else."
The sole survivor from a study of a compound called surinin (Daniel), tells of how he discontinued the treatment early because it was impossible to tolerate, but also how his lover, a researcher working at a key HIV virology laboratory, had died from liver complications within three months of ending the study.
These histories are time and place specific. Gay men in San Francisco had one of the highest prevalence rates reported (soon after to be superseded by people with haemophilia dependent on blood products) at a time before treatment. It includes the community, social and political responses to fighting AIDS.
Light comes slowly "as people started hanging on" and then as effective treatment became a reality "they found a way through the storm." This film is moving and it is sad, but it is not depressing. Each person has a gentle eloquence and takes you through their journey so you glimpse how this has lead to a greater understanding of life and a closer connection to people who in other circumstances many of them might never otherwise have known.
AIDS has happened thousands of times for every new country, region or town and in many different populations, each with their own story and against their own background. This film should encourage others to shows their histories. And millions of people have their own story of how HIV has and still does affect them personally, and who despite differences of background and experiences will be touched with each of these stories.
Taken together, the film will affirm and strengthen your own history with HIV. And for those coming to understand HIV for the first time it should give a historical perspective from a setting that is hard to imagine even if you were there. Its humanity should fire a response that recognises the importance of preventing infections in new generations and ensuring effective and affordable treatment for all becomes a global reality.
We were here was screened twice at the London Lesbian and Gay Film Festival earlier this year and has been touring festivals to much acclaim since. Six months later, it had its official UK launch, a couple of showings at the ICA in London and a benefit for the THT. If this film doesn?t come to a cinema near you, organise a group screening, or get the DVD, which was released on 5th December.
We Were Here, USA, 2011, 90 minutes.
Directed by David Weissman.
Released on DVD from 5th December on Peccadillo Pictures.