Important publications launched at IAS 2012
1 August 2012. Related: Conference reports, Other news, World AIDS 19 Washington 2012.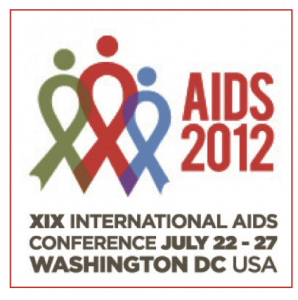 Muirgen Stack and Rebecca McDowall, HIV i-Base
The IAS conference was used to launch several publications that each cover important aspects of HIV treatment or access. Here are a few that caught our attention. MSF must get the award for most prolific.
IAS report: Towards an HIV Cure: Global Scientific Strategy
Officially announced at a pre-conference symposium on the 20–21 July preceding the International AIDS conference, the IAS "Towards an HIV Cure" Global Strategy represents a thorough and comprehensive framework for cure-related research in the future.
It aims to use a "bottom-up" approach whereby the scientists themselves dictate research areas and allows for more communication and collaboration between researchers underneath the umbrella of cure research.
The strategy acknowledges the success of antiretroviral therapy (ART) in controlling HIV infection, but recognises that this is not a cure, defined as either "functional" (long term control of HIV in the absence of ART) or "sterilising" (elimination of HIV from the body). Currently, ART fails to eradicate the reservoir of latently infected resting cd4+ T cells, which host stably integrated HIV-1 provirus. This on its own leads to viral persistence but there is also the possibility of on-going low-level replication in other tissues of the body.
The report then identifies seven main research priorities in how best to overcome HIV persistence before a cure (functional or sterilising) can be realised. These are:
Cellular and viral mechanisms involved in HIV persistence at a molecular level
Anatomical compartments and cellular sources of HIV reservoirs
Immune activation and dysfunction in the presence of ART
Natural models of HIV/SIV control
Assays to measure persistent infection
Therapeutic and immunological approaches for eliminating persistent HIV infection
Enhancement of immune response to control viral replication
At the report launch, Steven Deeks, co-chair of the IAS cure working group, said "Our basic understanding of the mechanisms of HIV persistence in latent reservoirs is far superior than it was a decade ago. We are entering a stage in the epidemic in which we can seriously begin testing drugs that either prevent latency or which force the virus out of its hiding place, making it susceptible to our current drugs."
The IAS initiative also aims to co-ordinate new donor funding for this research globally.
References:
The International AIDS Society scientific working group on HIV cure. Towards an HIV cure: a global scientific strategy, full recommendations report, July 19, 2012.
http://www.iasociety.org/Web/WebContent/File/HIV_Cure_Full_recommendations_July_2012.pdf (PDF)
Webcast of report launch:
http://globalhealth.kff.org/AIDS2012/July-22/Towards-an-HIV-Cure.aspx
A supplementary opinion article can be found in Nature Reviews Immunology 12, 607-614 (August 2012) by Steven Deeks.
JAIDS supplement: HIV and ageing
A review of current knowledge and research concerns relating to HIV and aging, presented as a report to the NIH Office of AIDS Research and published as a supplement in the Journal of AIDS. [1]
Rather than a focus on the recent benefits of HAART that have extended life expectancy by 50 years, the authors are more concerned with the complex interplay of social and medical circumstances that mean that "on average, a 20 year old initiating ART may already have lost one-third of the expected remaining years of life compared to similar HIV uninfected persons".
The report highlights the concerns about Inflammation, co-infection (including CMV), reviews current data on biomarkers (IL-6, CRP, d-dimer, soluble CD14 and markers of T-cell activation and senescence), highlights current knowledge gaps and suggests priority areas of future research.
Reference:
High KP et al. for the OAR working group on HIV and aging. HIV and aging: state of knowledge and areas of critical need for research. A report to the NIH Office of AIDS Research by the HIV and aging working group. JAIDS. Volume 60 Supplement 1, S1-S18. (01 July 2012). Free access.
http://journals.lww.com/jaids/toc/2012/07011
Lancet series on HIV in MSM
The Lancet has published a series of articles highlighting the ongoing growth of the HIV epidemic in men who have sex with men (MSM).
The series explores some of the unique aspects of the epidemic in MSM, which are driving transmission among this population.
The articles cover both the science and culture behind the MSM epidemic. One comment piece examines "The irony of homophobia in Africa", which is reflected in a review of the recently released film "Call me Kuchu" which looks at the life and death of David Kato in Uganda.
The scientific papers include a review of the "Successes and challenges of HIV prevention in men who have sex with men". The article emphasises the importance of combining biomedical and behavioural approaches to prevention amongst MSM, and the challenge of implementing these programmes in areas where resources are restricted and legal barriers remain.
Topics covered also include the unique challenges faced by black MSM around the world; stigma and discrimination affecting MSM; and a look at the global epidemiology of HIV infection in MSM.
The full series can be accessed online at:
http://www.thelancet.com/series/hiv-in-men-who-have-sex-with-men
MSF report on viral load technology in developing countries
Launched at IAS, this 36-page report argues for the importance of access to viral load testing as part of the expanded access to treatment. Although already recommended in WHO guidelines, the use of viral load testing remains largely unavailable in resource-limited settings.
The report includes an summary and introduction and is divided into four key sections:
Why the demand and need for routine viral load monitoring is so important
An overview of current access, including for early infant diagnosis
How to overcome technological barriers to wider implementations
Overcoming market barriers
The report is available to download free in PDF format from links on the MSF website.
Reference:
MSF. Undetectable: how viral load monitoring can improve HIV treatment in developing countries. MSFaccess.org
http://www.doctorswithoutborders.org/press/release.cfm?id=6130
Untangling the web of ART price reductions
Essential guide to ART price reductions, launched at IAS, and now in the 15th edition.
This is the leading review of how the majority of the 8 million people in low and middle-income countries are able to access treatment.
The report charts, in real time each year, the success of global donors and negotiators including the Clinton Health Access Initiative (CHAI) to drive generic ART prices to the most affordable levels yet, both for initial and subsequent line combinations.
In addition to reviewing cost implications for future options for scale-up, the resource includes separate information on each major compound and coformualtion, including price comparisons for lowest generic costs and appendices that comprehensively include all approved adult and paediatric formulations (generic and originator).
Reference:
MSF. Untangling the web of antiretroviral price reductions. 15th edition, July 2012.
http://www.msfaccess.org/content/untangling-web-antiretroviral-price-reductions-15th-edition
http://www.msfaccess.org/sites/default/files/MSF_assets/HIV_AIDS/Docs/AIDS_report_UTW15_ENG_2012.pdf (PDF)
Web version:
MSF: US trade and IP agreements further threaten global health
MSF access campaign
At IAS , MSF launched a new report on the ongoing negotiations between the United States and the Asia Pacific region for a Trans-Pacific Partnership Agreement (TPP). The report reveals previously secret details about the agreement, which in many ways mirrors the controversial Free Trade Agreement with the EU and India reported in the March-April edition of HTB.
Encompassing eleven countries and slated for further expansion across the Asia Pacific region, the Trans-Pacific Partnership Agreement (TPP) is a regional trade agreement that will "set the standard for 21st-century trade agreements going forward."
The TPP negotiations are being conducted in secret, but leaked drafts of the U.S. negotiating positions show that the U.S. is demanding aggressive intellectual property (IP) provisions that would roll back public health safeguards enshrined in international trade law in favour of offering enhanced patent and data protections to pharmaceutical companies, making it harder to gain access to affordable generic drugs and hindering needed innovation.
If the U.S.'s demands are accepted, the TPP agreement will impose new IP rules that could severely restrict access to affordable, life-saving medicines for millions of people. Billed by President Obama as "a model not just for countries in the Pacific region, but for the world generally," the TPP will set a damaging precedent with serious implications for developing countries where MSF works, and beyond.
For more information and to download the full MSF report:
MSF. Trading away health: how the U.S.'s intellectual property demands for the trans-pacific partnership agreement threaten access to medicines (August 2012)
http://aids2012.msf.org/2012/trading-away-health-how-the-u-s-s-intellectual-property-demands-for-the-trans-pacific-partnership-agreement-threaten-access-to-medicines/
MSF report for faster scale up
Speed Up Scale-Up: Strategies, Tools and Policies to Get the Best HIV Treatment to More People, Sooner
For over a decade, people living with HIV, treatment advocates, clinicians, and health ministries have been grappling with how to ensure increased access to quality antiretroviral therapy in resource-limited settings. Where are we now?
Although there have been enormous strides over the past decade, constrained budgets and sub-optimal policies that are only slowly changing are impeding the effort to reach all people in need. In addition, too many people are still dying because they do not know they are living with HIV, as well as many people are being diagnosed with HIV late or fall out of care before starting treatment.
This report outlines some of the strategies, tools and policies that have supported the scaling up of treatment during the past decade as well as those that can address persistent or new challenges. The results are presented from a 23-country survey of how consistently these strategies are being implemented. (See Annex 1) The findings demonstrate encouraging progress by some health ministries in adopting many of the enabling policies needed to facilitate scale-up and improve care. Nevertheless, the adoption and implementation of these strategies, tools and policies are lagging in some countries.
The survey results provide a mixed picture: 11 of 23 countries have reached antiretroviral therapy coverage of 60% or more. Some countries have already made or are making strides towards their own national targets of reaching 80% of people in need with antiretroviral therapy. On the other side of the spectrum, six countries are still only reaching one third of the people in need or less. As the international norms for HIV move towards better and earlier treatment and technological advancements in diagnostics are becoming available, it is important to shore up and strengthen the remaining key success factors that risk being compromised: political and financial support dedicated to addressing and reversing the epidemic.
The last 12 years of antiretroviral therapy in resource-limited settings have shown that, when treatment is offered close to home and before people get sick, their chances of survival increase.
Current antiretroviral therapy coverage is only halfway there: meeting the goal means getting an additional seven million people onto life-saving treatment in the next three years and helping them remain in care. Rapidly increasing the number of people living with HIV receiving antiretroviral therapy and supporting retention in care are major challenges, but the potential to start reversing the epidemic by scaling up treatment provides new motivation and represents an opportunity that must be seized.
Source: MSF. Speed Up Scale-Up: Strategies, Tools and Policies to Get the Best HIV Treatment to More People, Sooner (August 2012).
Download the full report:
http://aids2012.msf.org/2012/speed-up-scale-up/
UNAIDS report: Together we will end AIDS
Launched just prior to the conference, this report from UNAIDS was stacked high in the UNAIDS booth and is included photographs, graphics and contirbutions from many people who have key roles in the global response.
Probably the the most useful information is on pages 122-123, just before the ten pages of references, as this contains the individual country data relating to new infections in children, including the latest data on the incidence in women, details on access to treatment and care, and HIV-related mortality.
http://www.unaids.org/en/resources/campaigns/togetherwewillendaids
TAG/i-Base Pipeline report 2012
Finally, one of our own publications.
For the third year i-Base have partnered with the New York-based activist group Treatment Action Group (TAG) to produce a combined pipeline review of new drugs, formulations, vaccines, strategies and diagnostics. See the earlier in this issue of HTB for more details.
Available only in electronic versions now – PDF and online.
http://www.i-base.info/2012-pipeline-report
We also launched a new dedicated website with TAG that will be updated as new developments are announced: