Maraviroc plus atazanavir/ritonavir in a nuke-sparing regimen in treatment-naive patients
1 August 2012. Related: Conference reports, Antiretrovirals, World AIDS 19 Washington 2012.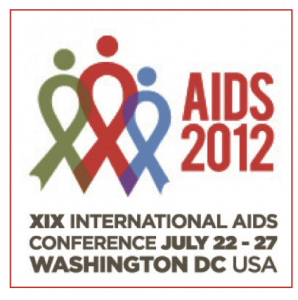 Simon Collins, HIV i-Base
Results at 96 weeks were presented from a randomised open-label, phase 2b pilot study that compared dual therapy with atazanavir/ritonavir plus either maraviroc (n=60) or tenofovir/FTC (n=61) as a standard of care control arm, in treatment-naive patients.
Although maraviroc does not have a license indication for treatment-naive patients, the pharmacological benefits of this approach include using a 150 mg once-daily dose for maraviroc, halving the standard dose, and therefore halving the cost.
Approximate baseline characteristics for the study included mean age 37 years (range 18–68), 90% male, 75% white and 20% black. Median CD4 count and viral load were approximately 350 cells/mm3 (range 110 – 744) and 40,000 copies/mL (range 2,000 – 795,000), with 27% vs 36% having baseline viral load >100,000 copies/mL, in the maraviroc vs tenofovir/FTC arms respectively.
Viral efficacy response rates at week 96 suggested that the dual combination was not as good, with 67.8% (40/59) versus 82.0% (50/61) patients having viral load suppressed to <50 copies/mL. Using the <400 cut-off, results were 78% vs 84%. Viral load in the eight patients in the maraviroc arm with viral load >50 at week 96, ranged from 54 to 7600, with 5/8 <200 copies/mL. The single detectable patient in the tenofovir/FTC arm blipped at 77 copies/mL.
No resistance (genotypic or phenotypic) or change in tropism was detected in the patients with viral load >500 copies/mL (maraviroc = 4; tenofovir/FTC = 1).
Median CD4 increases from baseline were 269 and 305 cells/mm3 in the maraviroc vs tenofovir/FTC arms. Greater reductions in creatinine clearance (–5.5 versus –18 mL/min) occurred with tenofovir/FTC compared to maraviroc. Although serum bone formation markers were lower in the maraviroc arm at both weeks 48 add 96, baseline values for either group were not available. While the study numbers were small, other side effects seemed broadly similar, with 21% vs 18% for serious side effects, 53% vs 33% for grade 3/4 events, 3% vs 0 discontinuing due to side effects, and 70% vs 56% for grade 3/4 hyperbilirubinaemia, all maraviroc vs tenofovir/FTC respectively.
comment
Although the researchers emphasised that the study was not powered for between-group differences, the results generated sufficient caution for the subsequent phase 3 study of this nuke-sparing approach, now ongoing, to pair maraviroc with darunavir/ritonavir rather than atazanavir/r.
Reference:
Mills A et al. Once-daily maraviroc in combination with ritonavir-boosted atazanavir in treatment-naïve patients infected with CCR5-tropic HIV-1 (study A4001078): 96-week results. 19th International AIDS Conference. 22-27 July 2012, Washington. Oral abstract TUAB0102.
http://pag.aids2012.org/Abstracts.aspx?SID=202&AID=16304