New booster – cobicistat as an alternative to ritonavir
1 August 2012. Related: Conference reports, Antiretrovirals, World AIDS 19 Washington 2012.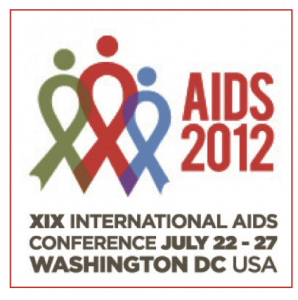 Simon Collins, HIV i-Base
The pharmacokinetic booster cobicistat is one component of the recently FDA-approved, single-pill, integrase inhibitor-based combination Quad.
Cobicistat has similar pharmacokinetic boosting properties to ritonavir by inhibiting the cytochrome P450 3A4 liver enzyme, but without direct antiretroviral activity. In Washington, results were presented from a phase 3 registrational study that compared cobicistat to ritonavir to boost atazanavir in 692 treatment-naive patients, in combination with tenofovir/FTC. Exclusion criteria included preexisting renal impairment defined as eGFR <70 mL/min.
Groups were closely matched with approximate baseline characteristics that included 83% male, 60% white ethnicity and median age 36 years. Median CD4 and viral load were approximately 340 cells/mm3 and 60,000 copies/mL.
For the primary endpoint of viral efficacy (<50 copies/mL at 48 weeks), similar responses were reported for the two groups, at 85% in the cobicistat versus 87% ritonavir arms (difference: −2.2%; 95% CI: −7.4 to 3.0) and 86% in each arm for patients with a baseline viral load >100,000 copies/mL.
Similar outcomes were seen in safety analyses, with 7% of patients in each arm discontinuing due to grade 3/4 side effects.
Median increases in total bilirubin at week 48 in the cobicistat vs ritonavir group were 1.9 and 1.7 mg/dL, with 4% vs 3% having bilirubin-associated side effects. Median increases in serum creatinine were 0.13 and 0.09 mg/dL respectively. Median changes in total cholesterol were +4 and +10 mg/dL and increases in triglycerides were +16 and +24 mg/dL.
Mean steady state plasma exposures of atazanavir were comparable (Ctau = 796.1 vs 853.4 ng/mL).
An earlier study this year reported that the boosting impact of cobicistat does not match ritonavir with all protease inhibitors and may not be appropriate to use with tipranavir. Also, cobicistat increases serum creatinine, which in turn affects the calculation of eGFR, complicating the standard monitoring for tenofovir-related renal toxicity. Currently an increase of 0.4 mg/dL or greater is proposed as a conservative cut-off to address concerns about potential tenofovir renal tubular toxicity.
Cobicistat does not appear to improve the gastrointestinal or lipid side effects of ritonavir, it has already lead to new coformulations that have studies underway. These include four-in-one combinations of a new Quad with darunavir/cobicistat/FTC plus the investigational tenofovir prodrug GS-7340; the first single-pill protease inhibitor formulation of darunavir/cobicistat/GS-7340/FTC; and two combined PI/booster pills of atazanavir/cobicistat and darunavir/cobicistat.
Cobicistat was submitted to the FDA on 28 June 2012. [2]
References:
Gallant J et al. Cobicistat versus ritonavir as pharmacoenhancers in combination with atazanavir plus tenofovir disoproxil fumarate/emtricitabine: phase 3 randomized, double blind, active-controlled trial, week 48 results. 19th International AIDS Conference. 22-27 July 2012, Washington. Oral abstract TUAB0103.
http://pag.aids2012.org/Abstracts.aspx?SID=202&AID=13085
http://pag.aids2012.org/flash.aspx?pid=1204
Gilead press release. Gilead submits new drug application to the U.S. FDA for boosting agent cobicistat. (28 June 2012).
http://www.gilead.com/pr_1710422