January/February 2015: Volume 16 Number 1/2
29 January 2015. Related: Editorial.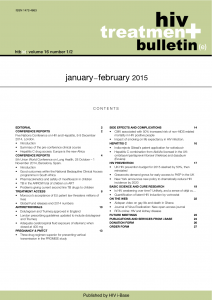 Read this issue online – full contents
Download/open PDF – (1.4 Mb)
The first HTB in 2015 includes a diverse selection of HIV related news and research reviews.
We report from the Five Nations conference on HIV and Hepatitis held in London, which included a statement on the importance of increasing access to HCV treatment. Access was a recurring theme as, even in Europe, the new drugs seem likely to only reach a small proportion of those who could benefit from using them.
From the 45th Conference on Lung Health, held in Barcelona we report studies about both new and existing treatment for TB and MDR-TB in HIV positive adults and children. Notably, an early safety concern with bedaqualine is not being reported from compassionate access programmes.
Again on access, NHS England has decided that dolutegravir can now be used. London guidelines – currently only available to download from the i-Base website – also agree. This must mean the price is comparable to other options, though in London, separate abacavir/3TC plus dolutegravir is recommended for financial reasons, rather than the 3-in-1 single pill formulation of Triumeq.
Two studies with importance for global health, include one report that efavirenz CSF levels are similar with 400 mg and 600 mg doses and another, less surprising, that triple therapy is more effective than a single drug regimen to prevent mother to child transmission at 2 weeks.
We include news that India has rejected Gilead's patent application for sofosbuvir. This is a considerable victory for all countries dependent on modern generic medicines. Gilead is challenging this decision and our commentary includes more detail. Also, news on why patients in non-EU Morocco are concerned about EU patent laws.
Towards the end of last year, one of the most widely reported study in mainstream media on World AIDS Day, was that HIV may be becoming weaker. Richard Jefferys was less convinced, and we include his somewhat cooler analysis that explains why.
Other basic science reports include Gareth Hardy's review of the data on the role of vorinostat in cure research, further concerns about CMV coinfection and the impact of smoking on life expectancy of HIV positive people.
In the next issue of HTB we will be reporting from CROI which is being held at the end of February. Our reports are likely to be led with results from the PROUD and IPERGAY PrEP studies. It is therefore notable that the early results from these studies are already generating demand for PrEP in the UK, and we reprint a community statement that had over 1200 signatures as we went to press, together with news that ACT-UP London held a protest in supporting early access.
Access to PrEP is also one of three proposed strategies proposed for dramatically reducing HIV incidence in New York State by 2020. The policy, reported here with links to the Task Force that developed it, not only had high-level political engagement, but also set numerical targets – ie to reduce annual incidence from 3000 to 750 within five years,
Meanwhile, plans in the UK to reduce HIV prevention funding for 2015, seem to have been averted, at least in the short-term. This is thanks to an NAT-initiated community repsonse, but it highlights how important community engagement will be throughout 2015.
Download/open PDF – (1.4 Mb)