Dual therapy with dolutegravir + 3TC keep viral load undetectable: 48 week results from PADDLE study
1 August 2016. Related: Conference reports, Antiretrovirals, World AIDS 21 Durban 2016.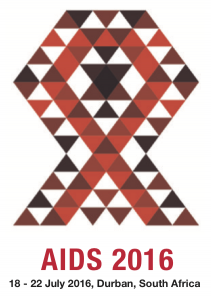 Simon Collins, HIV i-Base
Updated results from the PADDLE study were a highlight of AIDS 2016 and were presented as an oral late-breaker on the last day. [1]
This was a small (n=20) single-arm open label study in treatment-naive participants that was notable for reporting at the EACS 2015 conference that rapid viral suppression to <50 copies by week 8 that was maintained to 24 weeks. Although median baseline viral load was low (24,000 copies/mL [IQR: 12,000 to 37,000]), four people were >100,000 copies/mL. [2]
The results at week 48 were similar, with suppression maintained to <50 copies/mL throughout in 18/20 participants.
Low level detectable viral load was reported at week 36 in one participant (at 246 copies/mL) who resuppressed without a change in treatment (even though the study protocol recommended changing).
One participant committed suicide linked to "severe stress and emotional trauma" that was not judged related to the study medications.
Comment
These results are encouraging for the likelihood of this being a durable option, however small the dataset.
References:
Cahn P et al. Dolutegravir-lamivudine as initial therapy in HIV-infected, ARV naive patients: 48 week results of the PADDLE trial. AIDS 2016, 18-22 July 2016, Durban. Oral late breaker abstract FRAB0104LB.
http://programme.aids2016.org/Abstract/Abstract/10270 (Abstract)
http://www.natap.org/2016/IAC/IAC_92.htm (Slides thanks to natap.org)
Figueroa MI et al. Dolutegravir-lamivudine as initial therapy in HIV-infected, ARV naive patients: first results of the PADDLE trial. 15th EACS, Barcelona 2015. Oral abstract LPBS 4/1.