Second case of drug resistant HIV infection in person adherent on PrEP
29 November 2016. Related: Conference reports, HIV prevention and transmission, R4P 2016 Chicago.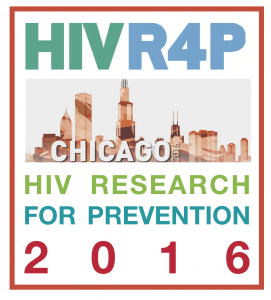 Simon Collins, HIV i-Base
Unfortunately, one of the studies that was widely reported from the R4P 2016 conference was a second case of HIV infection in a person who was very adherent to PrEP. [1]
This new report was presented as a late breaking oral abstract by Howard Grossman from the Cleveland Clinic, a doctor who is an advocate for PrEP and who has written about benefits from a personal perspective.
It involved an HIV negative man whose partner was on effective ART with undetectable viral load and who started daily PrEP in January 2016. Self-reported adherence was 100%, confirmed by high drug concentrations in plasma and hair samples.
This man tested HIV positive at his routine HIV screening in May using a 4th generation AgAb HIV test and only reported having condomless sex with two people other than his main partner (11 and 5.5 weeks earlier). His risk was as the active (insertive) partner. Phylogenetic analysis showed that the infection was not related to his main partner.
His viral load was undetectable (<20 copies/mL) and dolutegravir was added to tenofovir-DF/FTC as treatment. However, resistance testing of proviral HIV DNA detected RT mutations K65R, M184V, K103S, E138Q and Y188L associated with high level drug resistance to NRTIs including tenofovir, FTC and NNRTIs. Darunavir/cobicistat was added to ART and viral load continued to be undetectable.
One surprise from the questions after the session was almost an obsessive focus on adherence, even though this would have no impact on the extensive mutations actually seen in the genotypic test.
Comment
Although this case is disappointing, it is not unexpected, and unfortunately other cases are likely to be reported in the future. PrEP can only be active against HIV that is sensitive to the drugs used in PrEP. A similar case was reported earlier this year at CROI. [2]
Luckily, the prevalence of K65R/M184V mutations are low, detected in approximately 1% of new HIV diagnosis in the UK (and the US) although this will vary by geographic region. This person was just unlucky to become infected from limited exposure to other partners.
It might help explain the impact on overall PrEP efficacy to consider two distinct situations.
Firstly, that PrEP still remains close to 100% effective in the context of protection against HIV that is not resistant to PrEP drugs.
Secondly however, efficacy is likely to fall significantly, even in the context of perfect adherence, if exposure is to HIV with resistance to either TDF or FTC and that this drop to zero with exposure to HIV that is resistant to both TDF and FTC (ie with K65R and M184V).
The risk in this second scenario will be dependent on viral load of the source partner, and if this person was in acute infection they might not have been diagnosed or on ART.
Earlier in the session it was reported that up to 100,000 people have used PrEP in the US, so with only two cases of failure due to the risk of MDR infection overall efficacy is still incredibly high.
Dr Grossman remains committed to continuing to use PrEP himself.
References:
Grossman H et al. Newly acquired HIV-1 infection with multi-drug resistant (MDR) HIV-1 in a patient on TDF/FTC-based PrEP. Research for Prevention 2016, 17-21 October 2016, Chicago. Oral abstract OA03.06LB.
Knox C et al. HIV-1 infection with multiclass resistance despite preexposure prophylaxis (PrEP). 23rd CROI 2016, Boston. Late-breaker poster abstract 479aLB.
http://www.croiconference.org/sessions/hiv-1-infection-multiclass-resistance-despite-preexposure-prophylaxis-prep