UK Guide to PrEP (2nd Edition)
29 November 2016. Related: Supplements, HIV prevention and transmission.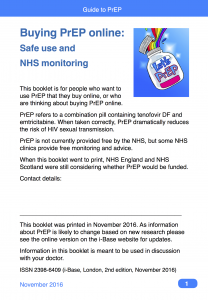 The second edition of this 24-page A5 booklet, produced in collaboration with UK doctors, researchers and other community advocates is being included as a supplement to the Email distribution for HTB.
This guide explains how well PrEP works, how to buy generic PrEP online from the UK, dosing options (daily and event-based) and the importance of HIV testing and monitoring.
Since the first edition was printed in July 2016, more than 10,000 printed booklets have already been requested from UK clinics.