Fit for purpose (July 2017)
20 July 2017. Related: Special reports, Supplements, Pipeline report, Fit for purpose.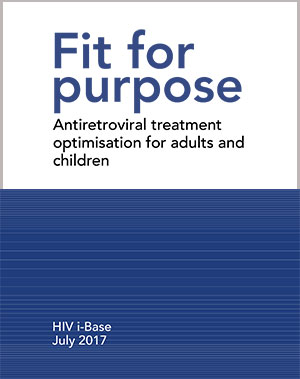 This year's edition of Fit for purpose has expanded.
We include treatment for children as well as adults in our annual review of optimised antiretroviral treatment (ART).
We have also included reviews of the HIV pipeline for both adults and children.
A full version of the adult HIV pipeline, reporting research studies in detail for each drug, is also available.
ACKNOWLEDGEMENTS
Fit for purpose (2017): A supplement of HTB South, 2017. ISSN 2046-9373
Thanks to Elaine Abrams, Carolyn Amole, Marta Bof to, Angela Colbers, Simon Collins, Paul Domanico, Charles Flexner, Andrew Hill, Saye Khoo, Shahin Lockman, Gary Maartens, Mark Mirochnick, Michelle Moorhouse, Anton Pozniak, David Ripin, Celicia Serenata, Kenly Sikwese, Francois Venter, Marco Vitoria and Melynda Watkins.
Design & typesetting: the earth is round, Cape Town, RSA.
Funded by Unitaid.