Dolutegravir use in pregnancy: results from small Belgian cohort
28 November 2017. Related: Conference reports, Pregnancy, EACS 16 Milan 2017.
Polly Clayden, HIV i-Base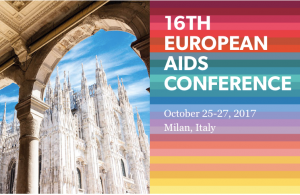 There were no vertical transmissions, obstetrical complications or birth defects among 11 dolutegravir (DTG)-exposed pregnancies at a Brussels-based centre between November 2015 and June 2017.
Preliminary data from a prospective observational study of pregnant women and their children exposed to DTG at Hôpital Erasme were presented at EACS 2017.
The women were a median of 33 years old and were all ART-experienced before pregnancy. Eight women were receiving a DTG-containing regimen at conception and already virologically suppressed. The remaining three started a DTG-containing regimen during pregnancy (14, 16 and 26 weeks gestation).
Of 11 women, two experienced blips during pregnancy at nine and 32 weeks gestation: 66 and 1743 copies/mL respectively. All women had viral loads <40 copies/mL at delivery.
There was one twin pregnancy and no obstetrical or peri-partum complications.
All infants received four weeks AZT prophylaxis and remained HIV negative at 0, 1, 2 and 3 months (PCR DNA and RNA testing). Long term follow up of the infants is ongoing.
Reference:
Henrard S et al. Clinical outcome of 11 pregnancies with a dolutegravir containing regimen. 16th European AIDS Conference. 25-27 October 2017, Milan. Poster abstract PE9/66.