Fit for purpose 2018 – PDF
23 July 2018. Related: Special reports, Supplements, Fit for purpose, PDFs.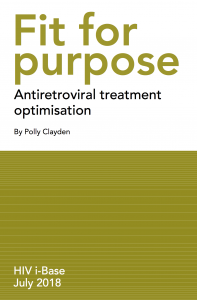 The i-Base annual Fit for Purpose report summarises key developments in antiretroviral treatment optimisation for low- and middle-income countries.
This edition is being launched in Amsterdam to coincide with the opening day of the 22nd International AIDS conference (AIDS 2018).
Read Fit for Purpose online – July 2018 html pages
Download Fit for purpose July 2018 (PDF 325kb)