No additional neural tube defects among a further 170 preconception dolutegravir exposures in Botswana: Tsepamo study (July 2018)
3 August 2018. Related: Conference reports, Pregnancy, World AIDS 22 Amsterdam 2018.
Polly Clayden, HIV i-Base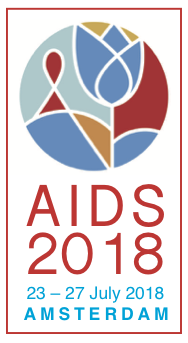 From 1 May to 15 July 2018 there were no more neural tube defects reported among infants born to women taking dolutegravir (DTG) at conception in the Tsepamo study – according to late breaking findings presented at AIDS 2018. [1]
Rebecca Zash showed this update on behalf of the study group which reported 4/426 neural tube defects in infants born to women taking DTG at conception in May: 0.94% (95% CI: 0.37 to 2.4). i-Base has previously commented extensively on this unexpected safety signal from Botswana and the resulting statements from WHO and other agencies. [2–4]
Since May, there have been two more neural tube defects among this cohort: one in an infant exposed to DTG started during pregnancy at eight weeks' gestation and one birth to an HIV negative woman. Prevalence of neural tube defects started in pregnancy: 1/3104, 0.03% (95% CI: 0.01 to 0.18).
The updated prevalence with DTG exposure at conception is: 4/596, 0.67% (95% CI: 0.26 to 1.7). Dr Zash noted that the 95% CI still does not overlap with any other exposure group (including other ART at conception and HIV negative).
The next formal analysis will occur after 31 March 2019 and will include women already exposed to DTG from conception before the recent change in guidance. Tsepamo has plans in place to expand the study from 8 to 18 sites, increasing from 45% to 72% of births in the Botswana.
The next analysis will include: neural tube defects; all major malformations; all major malformations; and other adverse birth outcomes (stillbirth, preterm, small for gestational age and neonatal death).
With the expanded surveillance to 18 sites the investigators anticipate approximately 1226 births with exposure to DTG from conception by the time of analysis.
It is uncertain what will happen with this signal between now and March 2019. Dr Zash explained that with no more neural tube defects, the total prevalence will be 0.33% and the lower CI of 0.13% will overlap with the upper CI for other ART at conception (0.21%), EFV at conception (0.15%) and with HIV negative (0.13%).
With one more neural tube defect, the prevalence will be 0.41% and the lower CI of 0.18% will overlap with the upper CI for other ART at conception.
comment
Once again, this is an excellent observational study and the results from the expanded surveillance, in March 2019, will be critical to better understanding the safety signal.
Meanwhile other cohorts of women who conceived while taking DTG are also being scrutinised and should be able to contribute data to a pooled analysis.  
References
Zash R et al. Surveillance for neural tube defects following antiretroviral exposure from conception, the Tsepamo study (Botswana). AIDS 2018. 23–27 July 2018. Symposia session TUSY15.
http://programme.aids2018.org/Programme/Session/1589
Clayden P. Preconception safety signal with dolutegravir: data from the Tsepamo study. HTB. 21 July 2018.
https://i-base.info/htb/34590
Clayden P. Dolutegravir preconception signal: time is up for shoddy surveillance. HTB. 11 July 2018.
https://i-base.info/htb/34459
Clayden P. Potential safety signal for dolutegravir from the time of conception. HTB. 21 May 2018.
https://i-base.info/htb/34133