EACS guidelines – version 9.1 update (2018)
13 November 2018. Related: Guidelines.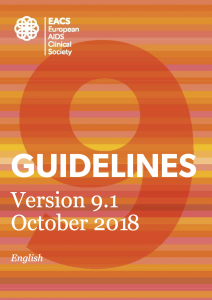 Simon Collins, HIV i-Base
The 2018 update to the European guidelines for treatment of HIV-positive adults in Europe is now available online and as a PDF file. 
Currently, online the English edition – version 9.1 – is available but translations into additional languages will be published later as they become available.
These include Chinese, French, German, Portuguese, Russian Spanish and Japanese (currently online as version 9.0 from 2017).
The changes to the 2018 edition are also helpfully summarised on the first page.
These include:
Adopting integrase inhibitor-based ART (but not elvitegravir) as first-line therapy, although boosted darunavir is also included as preferred option.
Downgrading elvitegravir to an alternative option.
Including recently approved drugs like bictegravir, TAF and once-daily raltegravir.
Including the two-drug combination of dolutegravir + lamivudine as an alternative option (if viral load is <500,000)
Dolutegravir (during first trimester), raltegravir 1200 mg, bictegravir, and darunavir/cobicistat are no longer recommended during pregnancy.
Drug interactions have been included for newer drugs.
Smaller changes have also been made to the sections on management of TB, hepatitis and other opportunistic infections.
Links
EACS guidelines (2018)
www.eacsociety.org/guidelines/eacs-guidelines/eacs-guidelines.html  www.eacsociety.org/files/2018_guidelines-9.1-english.pdf (PDF)
Summary of changes from v 9.0 to v 9.1 editions.
www.eacsociety.org/files/guidelines_changes_from_v9.0_to_v9.1.pdf (PDF)