B/F/TAF suitable for children from six years of age
20 May 2019. Related: Conference reports, Paediatric care, CROI 26 (Retrovirus) 2019.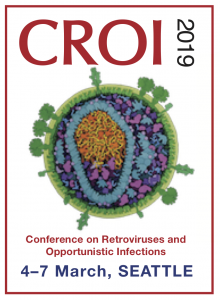 Polly Clayden, HIV i-Base
The adult fixed dose combination formulation of bictegravir, emtricitabine, and tenofovir alafenamide (B/F/TAF) is appropriate for the treatment of adolescents and children 6 to 18 years of age and weighing 25 kg and above.
Week 48-week efficacy, safety, acceptability, and palatability data presented at CROI 2019 (combined with previously reported PK data), support the use of adult strength B/F/TAF (50/200/25 mg) in this paediatric population.
The study was sequential in age descending cohorts. Virologically suppressed adolescents (12 to <18 years) weighing >35 kg (cohort 1) and children (6 to <12 years) weighing >25 kg (cohort 2) with viral load <50 copies/mL for >6 months and CD4 >200 cells/mm3were switched to B/F/TAF once daily.
Fifty adolescents and 50 children were enrolled. Sites were in South Africa, Thailand, Uganda and US.
For cohort 1, at baseline, median age was 15 years (range: 12 to 17), weight 45 kg (IQR: 40 to 56), 64% girls, 65% black, and median CD4 count 751 cells/mm3.
For cohort 2, median age was 10 years (range: 6 to 11), median weight 29 kg (IQR: 27 to 33), 54% girls, 72% black, and median CD4 count 930 cells/mm3.
Population pharmacokinetics showed bictegravir exposure to be similar to adults in both children and adolescents. Bictegravir trough levels was lower in adolescents than adults but remained >11-fold above paEC50; but similar to adults in children. Exposures of FTC and TAF were in the range of historical adult data and for children/adolescents treated with elvitegravir/cobicistat/F/TAF.
All 100 participants had viral load <50 copies/mL at week 24 and 98% (74/75) at week 48 (US FDA snapshot). No participant had treatment-emergent resistance.
One child discontinued after week 16 due to an adverse event (grade 2 insomnia and anxiety).
All participants reported B/F/TAF size (15 x 8 mm) and shape as acceptable and taste as palatable. Median percent adherence (pill counts) to study drug was high at 98.9% (range: 80% to 100%).
comments
Further investigations (by the originator manufacturer Gilead) with reduced strength, paediatric B/F/TAF 30/120/15 mg FDC in 2 years of age and above and weight 14 to <25 kg are ongoing.
Reference                                                                                                                                                                                                            Gaur A et al. Bictegravir/FTC/TAF single-tablet regimen in adolescents and children: week 48 results. CROI 2019. Seattle. 4–7 March 2019. Oral abstract 46.
https://www.croiconference.org/sessions/bictegravirftctaf-single-tablet-regimen-adolescents-children-week-48-results (abstract)
http://www.croiwebcasts.org/p/2019croi/46 (webcast)