UK Guide to PrEP – November 2019
13 December 2019. Related: Supplements, HIV prevention and transmission.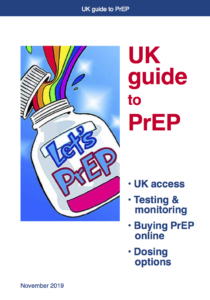 The 5th edition of this UK guide to PrEP is now updated online and printed copies are free to order. [1]
Changes to this edition include:
Latest information about how to access PrEP in the UK. This includes differences in how and where the NHS provides PrEP.
It includes new information about the PrEPshop clinic in London and buying PrEP online.
A new section on PrEP and sex work.
Information about TAF/FTC for PrEP.
Small changes to clarify the way PrEP dosing is described and new recommendation that heterosexual men can use event-based dosing.