Peer-review articles on COVID-19 and pregnancy
27 March 2020. Related: COVID-19: transmission & prevention, COVID-19: on the web, COVID-19.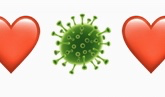 Simon Collins, HIV i-Base
The concerns about COVID-19 and pregnancy are included in US HIV treatment guidelines (with useful links) and in the most recent BHIVA statement.
Selected links are included to four papers below.
Perinatal transmission of COVID-19 associated SARS-CoV-2: should we worry?
Fan C et al. Perinatal Transmission of COVID-19 Associated SARS-CoV-2: Should We Worry? Clinical Infectious Diseases, ciaa226. https://doi.org/10.1093/cid/ciaa226. (17 March 2020).
Possible vertical transmission of SARS-CoV-2 from an infected mother to her newborn
This case report describes birth of an infant with elevated anti-SARS-CoV-2 IgM antibodies and cytokine levels to a mother with PCR-confirmed coronavirus disease 2019 (COVID-19) despite no physical contact.
Ref: Dong L et al. Possible Vertical Transmission of SARS-CoV-2 From an Infected Mother to Her Newborn. Research letter. JAMA. doi:10.1001/jama.2020.4621. (26 March 2020).
https://jamanetwork.com/journals/jama/fullarticle/2763853
Antibodies in infants born to mothers with COVID-19 pneumonia
This study measured antibodies from infant throat swabs and sera samples.
Ref: Zeng H et al. Antibodies in infants born to mothers with COVID-19 pneumonia. Research Letter. JAMA. doi:10.1001/jama.2020.4861. (26 March 2020).
https://jamanetwork.com/journals/jama/fullarticle/2763854
Can SARS-CoV-2 infection be acquired in utero? More definitive evidence is needed
Ref: Can SARS-CoV-2 infection be acquired in utero? More definitive evidence is needed. JAMA. Editorial. (26 March 2020).
https://jamanetwork.com/journals/jama/fullarticle/2763851