HIV in the UK: diagnoses continued to fall during 2019 but 42% are still late
11 November 2020. Related: HIV prevention and transmission.
Simon Collins, HIV i-Base
On 3 November 2020, Public Health England (PHE) published the annual statistics from last year on HIV in the UK. [1, 2, 3]
The results showed a continued decline in diagnoses across all risk groups easily meeting overall aim for more that 73% of people to be virally suppressed. The UK now reports 94%, 92% and 89% for the UNAIDS targets of 90:90:90, for the percentage of HIV positive people overall who are diagnosed, on treatment, and virally suppressed respectively. See Figure 4.
However, late diagnoses continues to be a serious concern with 42% of people were diagnosed with a CD4 count <350 cell/mm3 – associated with an 8-fold higher risk of mortality.
Figure 4: Continuum of HIV care in the UK, 2019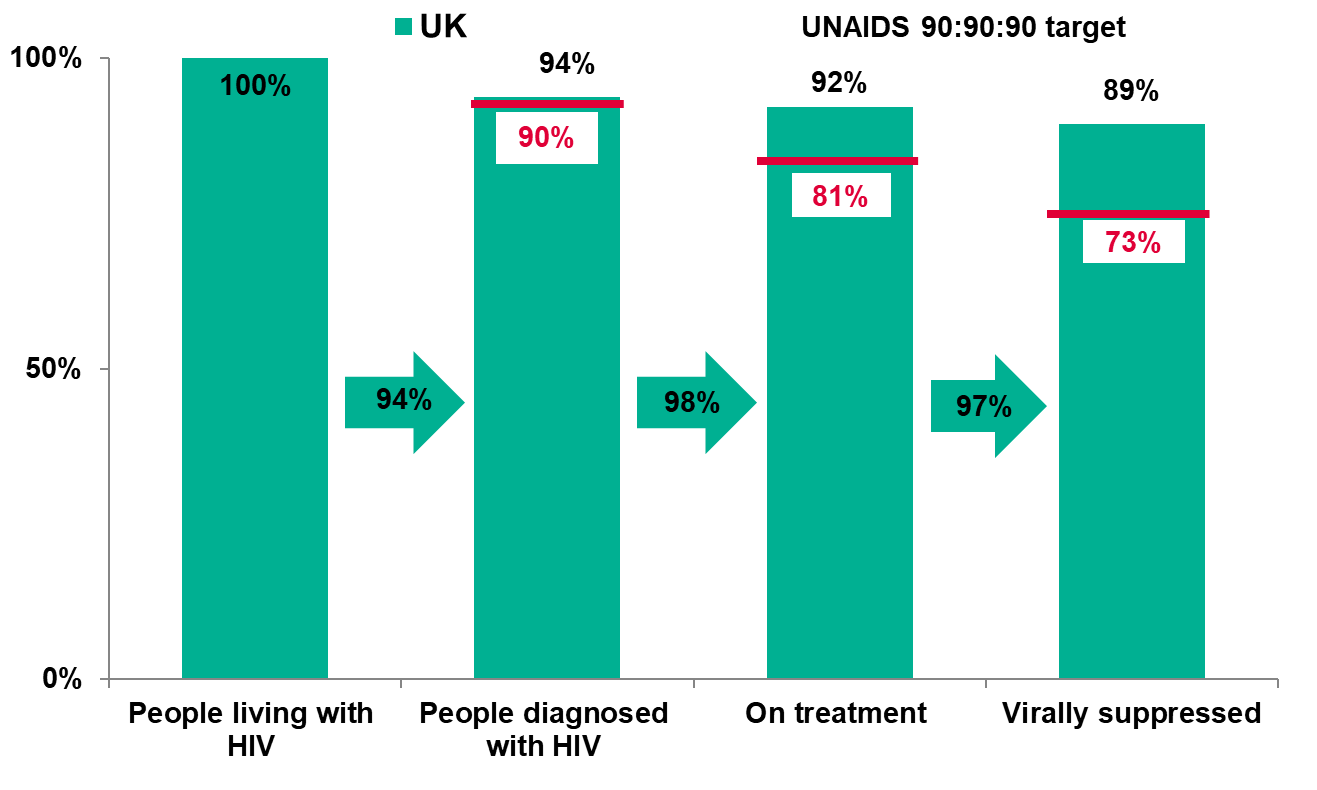 A summary of findings are included below.
105,200 people are estimated to be HIV positive in the UK, with 6,600 undiagnosed (6%). About half are gay and bisexual men and half are heterosexual.

During 2019 there were 4,139 new HIV diagnoses (1,139 women and 3,000 men). This was a 10% fall from 4,580 in 2018.

The drop in gay and bisexual men was from 1,425 in 2018 to 1,107 in 2019.

A total of 98,552 people (30,388 women and 68,088 men) accessed HIV care in the UK.

622 HIV positive people died (124 women and 498 men) which was similar to 2018. This represents a crude mortality rate of 631 per 100,000 population living.

1279 people were diagnosed late (42%) with a CD4 <350 cells/mm3), Late diagnosis was associated with 8-fold higher risk of mortality: 23 (95%CI: 17 to 32) vs 3 (95%CI: 1 to 7) per 1000.

65 cases of vertical transmission were reported, 5 of who (currently aged less than 15) were born in the UK.

About 1 in 4 people (974) had been previously diagnosed outside the UK.
Gender is not recorded, so figures for transgender women and men is not available.
Steeper declines from 2018 to 2019 are highlighted for the following groups (but not yet available for 681 people);
White gay and bisexual men by –22% (from 1,425 to 1,107).
People born in the UK by –25% (from 950 to 715).
People aged 15 to 24 by –22% (from 299 to 222).
People living in London by –15% (from 830 to 702).
Heterosexual transmission by –6% (from 1,664 to 1,559).
Figure 3 from the report is included below to summarise declines in main risk groups since 2015.
Figure 3: New HIV diagnoses in the UK by probable exposure group and location of first diagnosis, 2015 to 2019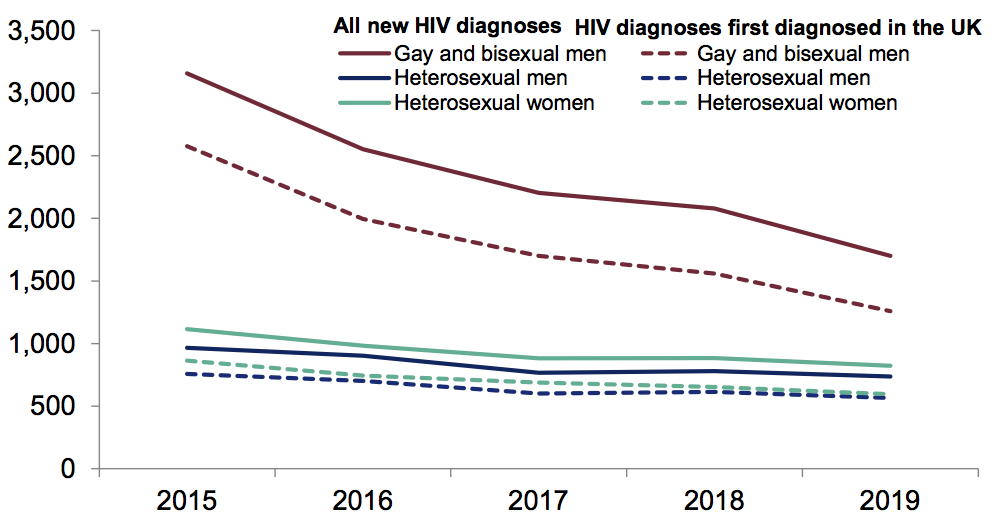 The number of HIV tests in sexual health services increased by 6% to 1,310,731. Take up in sexual health clinics was 65%, with approximately half of the 550,000 people who were not tested were not offered a test and half declined. Just under 1 in 5 tests were postal kits via internet services (up by 68%).
Between April and December 2019, there were more than 51,000 tests in prisons (46% uptake) which included 401 diagnoses.
Out of more than 670,000 tests during pregnancy (>99% uptake), approximately 93 were positive.
Screening more than 1,500,000 blood donations (presumably for antibodies rather than PCR, though not specified), led to 9 HIV positive results.
The report includes a new analysis this year estimating approximately 14,600 to 19,200 people have a detectable viral load (14% to 18%). Of these, approximately 40% are undiagnosed, 20% are not engaged in care, 10% are not on treatment, 13% have a detectable viral load on ART, and 24% have no viral load result recorded for the previous two years.
The data and resources cover the year up until December 2019 and include:
12-page report from PHE.

Tables on new HIV testing, diagnoses and on people accessing HIV care. 

HIV slide set.
The report concludes with speculation on the likely impact of COVID-19 on HIV and STIs this year with a report from preliminary data for 2020 planned for later this month.
comment
These annual data and reports are essential to the UK response to HIV.
The continued production during the difficulties of COVID-19 and the plans to provide data for 2020 later this month are also notable and important.
The continued drop in new diagnoses is good news, but public health strategies are clearly needed to reduce late diagnoses which continues to be difficult in many other high income countries.
References
 This article was first posted on 3 November 2020.