Hydroxychloroquine has no benefit on symptoms at 14 days
9 December 2020. Related: COVID-19: investigational drugs, COVID-19.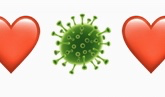 Simon Collins, HIV i-Base
Although hydroxychloroquine is no longer being studied as either treatment or prophylaxis for COVID-19 there will continue to be studies that add to this negative data set that are worth briefly reporting.
In this case, a randomised, blinded, placebo-controlled study that planned to enrol ~ 500 adults hospitalised with COVID-19 and respiratory symptoms was stopped early (after 479 participants had been enrolled) due to no evidence of effect. The primary endpoint was change in symptoms at day 14 based on a 7-category ordinal scale.
The study concluded "these findings do not support the use of hydroxychloroquine for treatment of COVID-19 among hospitalised adults".