Webcasts of two-day US Workshop on Long COVID (PASC) now online
22 January 2021. Related: COVID-19: long COVID, COVID-19: pathogenesis, COVID-19: on the web, COVID-19.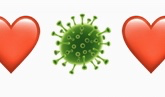 Simon Collins, HIV i-Base
The increasing awareness of the complexity of post-acute symptoms related to COVID-19 was covered in a two day workshop organised by the US National Institutes of Health (NIH). [1]
Long COVID is also called Post-Acute Sequelae of COVID-19 (PASC), post COVID and long haul COVID.
The workshop, including breakout sessions, in now webcast with open access.
The workshop opens with an overview of the current challenges and includes talks on clinical observations (both US and international), and some insights from the patient's perspective.
Further talks cover pathology coronaviruses as well as host immune responses.
The second day starts with a talk on social determinants of health and race/ethnicity that are expanded in focus groups.
Long COVID: Day 1
Session 1: Post-acute COVID-19: clinical observations
Epidemiological and clinical landscape

Experience from US clinics
Global perspective: experience from South Africa
The post-acute COVID-19 experience
Session 2: Viral pathogenic features and host immune response
Immunological Responses to SARS-CoV-2 Infection and Potential Role in Post-Acute Sequelae 

(B cells/Antibodies)
(T cells)
(Multisystem Inflammatory Syndrome in Children)
Pathogenic Features of Coronaviruses and Manifestations of Extrapulmonary Infection
Approaches to Researching Post-Acute Sequelae of SARS-CoV-2 Infection
Session 3: Post-acute COVID-19 perspectives
N

eurological/psychiatric/neuromuscular, cardiovascular, pulmonary, renal/GI/metabolic, immunologic/rheumatologic, paediatric 
Long COVID – DAY 2
Impact of Social Determinants of Health, Race and Ethnicity on Post-Acute COVID-19 Sequelae
Reports from breakout sessions.