Monoclonal antibody bamlanivimab is not effective in advanced COVID-19: lack of early signal stops study early
22 January 2021. Related: COVID-19: investigational drugs, COVID-19.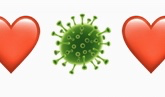 Simon Collins, HIV i-Base
A phase 3 study using the COVID-19 monoclonal antibody bamlanivimab (formerly LY-CoV555) in advanced infection was stopped early due to lack of activity: other studies continue in earlier infection.
This was a randomised placebo-controlled study using a single infusion of bamlanivimab, with a primary endpoint of sustained recovery over 90 days. Results were published in the NEJM. [1]
On 9 November 2020, this compound received emergency use authorisation from the FDA. [2]
From 5 August to 13 October 2020, the study enrolled 326 participants in 31 sites (23 in the US, 7 in Denmark and 1 in Singapore). On 26 October however, the study was closed early after a recommendation from the Data and Safety Monitoring Board (DSMB). This was due to no impact on lung function at day 5 using a seven-category ordinal scale based on oxygen requirements. This is similar to the scale that showed faster recovery benefits with remdesivir.
If the five-day results had shown a benefit, the study would have advanced to enrol over 1000 participants.
At day five, 81 patients (50%) in the bamlanivimab group and 81 (54%) in the placebo group were in one of the two categories of the pulmonary scale.
Across all categories, the odds ratio of bamlanivimab participants being in a higher category was 0.85 (95% CI: 0.56 to 1.29), p=0.45.
There were no differences in the primary safety outcome (a composite of death, serious adverse events, or clinical grade 3 or 4 adverse events through day 5): 19% vs 14%, OR: 1.56 (95%CI: 0.78 to 3.10), p=0.020 or in the rate ratio for a sustained recovery: 1.06 (95% CI, 0.77 to 1.47).
This was the first of the US NIH-funded TICO (Therapeutics for Inpatients with Covid-19) studies to look at multiple monoclonal antibodies. The study will continue follow-up in participants who already received bamlanivimab.
Although these results are disappointing, the early analysis for lack of effect limited unnecessary risks for additional participants.
New antibodies already added in the next stage of the ACTIV-3 study include VIR-7831 from GSK and a dual combination of BRII-196 and BRII-198 from Brii Sciences. [3]
Other studies using bamlanivimab continue in earlier stage infection. [4]
This report was first posted on 10 January 2021.