Most people hospitialised with COVID-19 have at least one symptom after 6 months: Wuhan cohort
22 January 2021. Related: COVID-19: pathogenesis, COVID-19.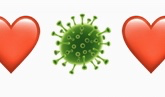 Simon Collins, HIV i-Base
A study by Huang and colleagues and published in the Lancet provides important results on longer-term outcomes from COVID-19 and importantly highlights the longer recovery times that are now starting to get more attention. [1]
This study includes results from 1,733 adults (from a total of nearly 2500) who were discharged from Jin Yin-tan Hospital in Wuhan, China, between 7 January and 29 May 2020. 
Median age was 57 years (IQR: to ). Follow-up visits were done from 16 June to 3 September 2020, and the median follow-up time was 186 days (IQR: to ). This included subset of 390 with results from lung functions tests and 94 with antibody serology.
At follow-up, 76% of patients (1,265/1,655) reported at least one ongoing symptom. The most common were fatigue or muscle weakness (63%, 1,038/1,655), sleep difficulties (26%, 437/1,655) and anxiety or depression (23%, 367/1,733).
Antibody responses were significantly lower over time in the subset of participants with these results, with 96% vs 58 testing seropositive in acute vs follow-up samples and with median titres of 19 vs 10, respectively.
Reduced kidney was reported by 13% (107/822) of participants with previous normal kidney function based on eGFR levels being above vs below 90 mL per 1.73 m2.
In 349 participants who completed the lung function test, those with more severe illness commonly had reduced lung function. There also reported slightly worse outcomes in a six-minute walking test: 29% at severity scale 5–6 walked less than the lower limit of the normal range (compared with 24% at scale 3, and 22% for scale 4).
However, only 4% of participants had been admitted to ICU during their hospitalisation, therefore underreporting the long-term outcomes from the most severe infections.
Reference
Huang C et al. Six-month consequences of COVID-19 in patients discharged from hospital: a cohort study. The Lancet, DOI:10.1016/ S0140-6736(20)32656-8. (8 January 2021).
http://www.thelancet.com/journals/lancet/article/PIIS0140-6736(20)32656-8/fulltext (website)
http://www.thelancet-press.com/embargo/longcovid.pdf (PDF)