Timothy Ray Brown: a virtual memorial
24 February 2021. Related: In memory.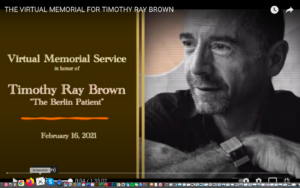 On 16 February 2021, a celebration and virtual memorial was held for Timothy Ray Brown with many community speakers talking about the special impact he had on life. This would have been his 14th anniversary of his HIV cure.
This recording is now online:
https://youtu.be/mCYrznU8JI8
This information has also been added to the i-Base in memory page.
In memory: Timothy Ray Brown, the Berlin patient, the first person to be cured of HIV