Oral molnupiravir at higher dose reduces SARS-CoV-2 viral load at day five in small phase 2 study
1 April 2021. Related: Conference reports, COVID-19: investigational drugs, COVID-19, CROI 28 (virtual) 2021.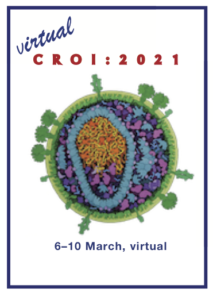 Simon Collins, HIV i-Base
Results from a double-blind, randomised, placebo-controlled, phase 2 dose-range finding study reported faster viral load clearance after five days using oral molnupiravir at the highest dose.
Entry criteria included symptoms of COVID-19 confirmed by PCR and molnupivavir was dosed at 200, 400, or 800 mg twice-daily for five days.
Of 78 participants with positive PCR at baseline (n=52 active, n=26 placebo), 20% vs 28% (p=0.56) and 24% vs 0% (p=-.001) remained positive at day 3 and day 5 respectively.
Several larger phase 2/3 studies are already ongoing.
Two good questions in the online chat (from Jean-Michel Molina) ask about why the difference is only seen by day 5, and whether the company are also planning to study use as prophylaxis, although neither have been answered yet.
Reference
Painter WP et al. Reduction in infectious SARS-CoV-2 in treatment study of COVID-19 with molnupiravir. Poster abstract 777.
https://www.croiconference.org/abstract/reduction-in-infectious-sars-cov-2-in-treatment-study-of-covid-19-with-molnupiravir/ (abstract and webcast)
This report was first published on 19 March 2021.