COVIDsalon
1 July 2021. Related: COVID-19: on the web, COVID-19.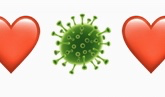 Website reporting on potential treatments for COVID-19 and, just as importantly, cautions about interpretation of early and preliminary results. [1]
Written and compiled by John S James, a leading US activist who first published AIDS Treatment News in 1985 and continued to report potential treatment for almost two decades. [2]