HTB: no. 8 – plus HIV and COVID-19 (1 August 2021)
1 August 2021. Related: Editorial.
This issue contains first reports from the IAS 2021 virtual conference and related 13th International Paediatric Workshop held in July.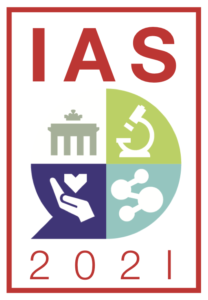 We review studies presented on some of the most exciting new drugs being developed for treatment and PrEP.
If these study results continue to be so positive, they will enable very different options to taking daily pills.
The reports cover long acting cabotegravir/rilpivirine, fostemsavir, paediatric dolutegravir, lenacapavir, islatravir, MK-8507 and albuvirtide.
We also report a study from the UK Biobank cohort that found no link between CMV and cardiovascular risk, but that didn't adjust for coinfections.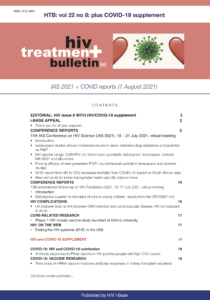 COVID-19 news also continues, with reports on both treatment and vaccines.
This includes several articles on the need for a third vaccine dose.
This includes positive data supporting the urgency of a third dose in some people.
The UK still has to address this important issue, including the implications for HIV positive people, especially with low CD4 counts.
Hopefully, booster dosing should not need to be for all adults, at least not. We include other reports looking at this difficult issue of durability of response, including the the Delta variant.
The discussions are also against the unacceptable situation of such inequality of access to vaccines globally.