UK RECOVERY study shows no benefit from aspirin in people hospitalised with COVID-19
7 February 2022. Related: COVID-19: investigational drugs, COVID-19.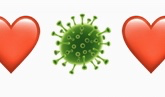 Simon Collins, HIV i-Base
The large randomised, controlled, open-label RECOVERY trial, comparing various repurposed drugs to standard of care continues to publish results, that in this case are another negative finding.
In this analysis, 14 892 participants were randomly allocated (1:1) to receive aspirin (150 mg a day) or usual care alone. Overall, mortality at day 28 was 17% in each arm (1222/7351 vs 1299/7541), rate ratio 0. 96 (95% CI: 0.89 to1.04; p=0·35). Similar results were reported for all subgroups.
Aspirin use had a slightly shorter time in hospital (median 8 vs 9 days) and 75% vs 74% were discharged alive by day 28 (p=0.0062) but there were no differences in use of invasive mechanical ventilation or death (p=0.23).
Although aspirin reduced thrombotic events (4.6% vs 5.3%) it also increased major bleeding events (1.6% vs 1.0%).