Introduction to ART: i-Base guide (June 2022)
1 July 2022. Related: Editorial.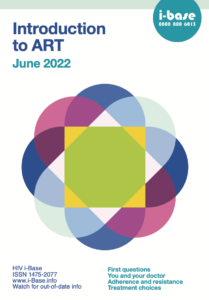 The i-Base guide to ART has been updated to include recommendations in the 2022 draft BHIVA guidelines.
Both online and print versions are now updated.
This guide cover information for people newly diagnosed, those about to start ART, and also those who have been living with HIV for many years and who want to learn more about treatment.
https://i-base.info/guides/starting
Changes to this edition include:
Latest recommendations for ART.
Information about injectable ART.
Updates on side effects, including weight changes.
Updating the 4-page drug chart.
Use of generic meds in the UK.
Future drugs in development.
Editing to use fewer words and larger type to make the print booklets easier to read.
QR codes linking to additional information online.