MPX DNA easily detected on surfaces in hospital after cleaning
1 September 2022. Related: Monkeypox.
Kirk Taylor, HIV i-Base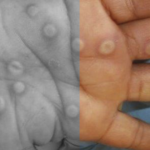 A case study from Toronto published in CID assessed the spread and persistence of MPX on surfaces in an airborne isolation room.
All surfaces, including bedlinen, hardwood furniture, door handles, toilet and a windowsill tested positive for MPX DNA before cleaning with disinfectant. The room was occupied by someone with >25-99 lesions and these were positive for MPX on days 1, 2, 3 and 7.
After standard daily hospital cleaning using cloths soaked with 0.175% accelerated hydrogen peroxide, two thirds of surfaces still remained positive for MPX DNA. Only the couch and windowsill did not test positive on follow up swabs. 
The CT for DNA analysis – an inverse marker for viral load – was <38 with results up to 40 considered intermediate. Median CT values were 40.5 (range: 36.9 to 42.2), 36.7 (range: 33.8 to 40.8) and 36.2 (range: 32.9 to 37.6) for orthopoxvirus, pan-MPX and the MPX clade 2 (Western African clade), respectively. 
CT values for surfaces that remained positive were not significantly lower after cleaning.
The authors caution that their study was limited to a single room and the MPX testing did not evaluate the viability of detected MPX virus.
comment  
Although these results show the persistence of MPX on many surfaces, the CT values were high (indicating low viral load) and the study had no minimum threshold – a single viral counted as a positive result. Future studies should really report on viability of virus before being submitted fro publiction.
So far, however, very few cases in the current MPX outbreak of more than 50,000 cases globally have been attributed to household or close contact linked to fomites.
Until results are verified, current guidelines for cleaning have been issued in the UK, and the US CDC has produced a particularly useful and easy to use resource. [2, 3]
References
Muller MP et al., Environmental testing of surfaces in room of a patient with monkey pox. Clinical Infectious Diseases, ciac654. (19 August 2022).
https://doi.org/10.1093/cid/ciac654
UK Health Security Agency (UK-HSA). Monkeypox: infected people who are isolating at home: Information for people who have been diagnosed with a monkeypox infection and who have been advised to self-isolate at home. (9 June 2022).
https://www.gov.uk/guidance/guidance-for-people-with-monkeypox-infection-who-are-isolating-at-home
US CDC. Disinfection of the home and non-healthcare settings. (6 June 2022).
https://www.cdc.gov/poxvirus/monkeypox/pdf/Monkeypox-Interim-Guidance-for-Household-Disinfection-508.pdf (PDF)