Access to vaccines and treatment for pregnant women at risk of monkeypox
1 September 2022. Related: Monkeypox.
Kirk Taylor, HIV i-Base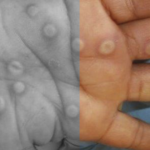 A commentary article in the September 2022 edition of Lancet Public Health, from Asma Khalil and colleagues from the Royal College of Obstetricians, reviews the limited data on management of monkeypox (MPX) during pregnancy. [1]
This includes data from 300 pregnant women who received MVA-BN and showed no increase in adverse events. Pre-clinical models did not report any birth defects following vaccination. 
Unless there are other complications, the benefits and safety of the MVA-BN vaccine currently outweigh the risk of MPX transmission, where outcomes can include an increased risk of miscarriage and stillbirth. 
The authors advise vaccinating contacts of confirmed cases, including health workers for up to 14 days post-exposure. Even if transmission occurs the vaccine might reduce the severity of symptoms. It could also limit the risk of transmission to the baby.
Given that MPX vaccination can reduce transmission and alleviate symptoms, consideration should be given to vaccinating pregnant women at risk.
With numbers likely to be low globally, the paper stresses the importance of learning from COVID-19 so that pregnant women are not again excluded from experimental vaccines and treatment. 
It also recommends setting up an international registry to prospectively collect data on use during pregnancy and in other high-risk populations.  
MVA-BN is a non-replicating vaccine and has been deemed safe for breastfeeding mothers. 
comment  
The UKHSA recommends that pregnant women in the UK at risk of MPX should talk to their doctor about the benefits of vaccination. [2]
An international registry is important as many women at risk live in countries where MPX is already endemic and where access to both vaccines and treatment is extremely limited.
References
Khali et al. Monkeypox vaccines in pregnancy: lessons must be learned from COVID-19. The Lancet Global Health. DOI: 10.1016/S2214-
109x(22)00284-4. (27 June 2022).
https://www.sciencedirect.com/science/article/pii/S2214109X22002844?via%3Dihub
UKHSA. Protecting you from monkeypox: information on the smallpox vaccination. (22 August 2022).
https://www.gov.uk/government/publications/monkeypox-vaccination-resources/protecting-you-from-monkeypox-information-on-the-smallpoxvaccination#
if-you-are-pregnant