US cases: MMWR report on 1891 cases to 22 July 2022
1 September 2022. Related: mpox (monkeypox).
Simon Collins, HIV i-Base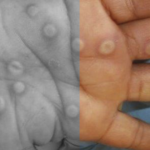 On 12 August 2022, the weekly MMWR reported on the monkeypox outbreak in the US which had been declared a national emergency eight days earlier.
Although 2,891 people had MPX up to 27 July, the MMWR report only summarises reports from the 1,195 (41%) cases with data on gender and age.
This included cases in 43 states, Puerto Rico, and the District of Columbia (DC). Among these, 99% of cases were in men; and in those with information, 94% reported male-to-male sexual or close intimate contact during the 3 weeks before symptom onset. 
Among the 88% of cases with data, 41% were non-Hispanic White, 28% Hispanic or Latino, and 26% non-Hispanic Black or African American. 
Further details though are more limited especially on other demographics, clinical presentation and outcomes where fewer than 400 cases have these details.
337/358 (94%) reported close contact with a man in the previous three weeks.
80/291 (27%) reported one partner, 40% reported 2 to 4 partners, 14% reported 5 to 9 partners, and 19% reported 10 or more partners.
136/334 (41%) had HIV infection.
By 31 August 2022, more than 18,000 people had been diagnosed in the US, approximately one-third of the global total.
Reference
Philpott D et al. Epidemiologic and Clinical Characteristics of Monkeypox Cases — United States, May 17–July 22, 2022. MMWR Morb Mortal Wkly Rep 2022;71:1018-1022. DOI: 10.15585/mmwr.mm7132e3. (12 August 2022).
https://www.cdc.gov/mmwr/volumes/71/wr/mm7132e3.htm