BHIVA include efficacy data on HIV and monkeypox vaccine: updated statement (August 2022)
1 September 2022. Related: Monkeypox.
Simon Collins, HIV i-Base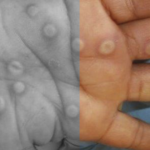 On 17 August 2022, BHIVA issued an updated statement on monkeypox (MPX) that includes information about vaccine efficacy, including in people living with HIV. [1]
The statement summarises information about the time to develop antibody responses and how these continue to increase over four weeks after a single shot.
One of the two HIV studies includes that responses might be slightly lower and take longer to develop in people who are HIV positive compared to HIV negative.
Importantly, it recommends that people living with HIV should receive two shots of the vaccine, even though it might take several months before the second dose.
When available, people who currently have a CD4 count <200 cells/mm3 should be prioritised for the second dose.
Having had a smallpox vaccination as a child will increase MPX antibodies after a single shot of the vaccine now. However, there is no evidence that the residual antibodies will prevent MPX infection now. fo example, 10% of 528 cases in the recent NEJM paper had received the smallpox vaccine as a child. [2]
comment
This update provides information that people can use when deciding their own levels of risk when returning to regular life.
This is especially important given the limited access to vaccines and that further supplies in the UK are not expected for 1–2 months.
Many people have already reduced their risk of exposure to MPX by changing how and when they have sex, given that this is only likely to be for a limited time, until vaccines become more widely available.
References
BHIVA rapid guidance on monkeypox virus. (Updated 17 August 2022).
https://www.bhiva.org/BHIVA-rapid-guidance-on-monkeypox-virus
International study of 528 monkeypox (MPX) cases: results from the 2022 outbreak need to inform new management guidelines. HTB (3 August 2022).
https://i-base.info/htb/43458
Collins S. Taking a break from monkeypox: four weeks out for August. HTB (3 August 2022).
https://i-base.info/htb/43686